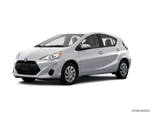 For 2016, Toyota's Prius C hybrid hatchback can be equipped with Toyota Safety Sense, which adds forward-collision warning, lane-departure assist and automatic high beams. Also new is the Persona Series Special Edition featuring black paint with Electric Lime or Cherry Pearl accents. Production will be limited to 1,500 units.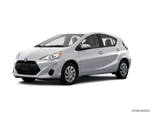 The 2015 Toyota Prius C gets styling updates to the nose and tail, including a larger grille and standard LED headlights. The little hybrid also gets a smattering of updated materials inside, along with Toyota's Entune touch-screen infotainment system.
About Toyota Prius c
Toyota's 2016 Prius C is the company's smallest and least expensive hybrid car. In return for sacrificing some room and power, the Prius C rewards its owner with a price tag starting under $21,000 and EPA estimates of 53 mpg in the city and 46 mpg highway. The Prius C can cruise for short distances solely on electric power and offers room for five. With VW's Golf TDI temporarily off the market, the only cars that come close to the Prius C's highway fuel economy are the sporty little Ford Fiesta SFE, Mitsubishi Mirage and Toyota Corolla LE. Of course, none of these cars offer a hybrid powertrain, and none come close to the Prius C's impressive city fuel economy.