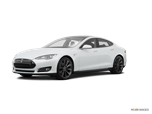 The latest Model S includes a new, lower priced rear-drive 70 trim, a 90kWh upgrade for the P85D that increases range by six percent and a new Ludicrous mode that bumps the Model S's zero-to-60-mph time to a ridiculous 2.8 seconds.
Tesla updates its cars more like Apple updates its iPhones, issuing software updates frequently, and the occasional gotta-have-it hardware changes whenever it darn well feels like it. This year, along with the software, is the new all-wheel-drive P85D that literally offers "Insane" acceleration, while the 70D becomes the new base model.
About Tesla Model S
Elon Musk might very well be this century's version of Thomas Edison and Henry Ford rolled into one. In the 2016 Tesla Model S electric luxury-performance sedan, Musk has created not only a viable alternative to the traditional combustion-engine car, but a vehicle that has captured the public's imagination. With its sleek design, impressive range and varied performance upgrade packages, the Model S should scare the heck out of OPEC. Tesla has even taken the bold step of building its own infrastructure, installing a network of "Supercharger" charging stations at various locations across the country. With performance abilities that dwarf some supercars and a price well in line with most full-size luxury sedans, prohibitive arguments against owning a Model S are few.