Used 2017 smart fortwo cabrio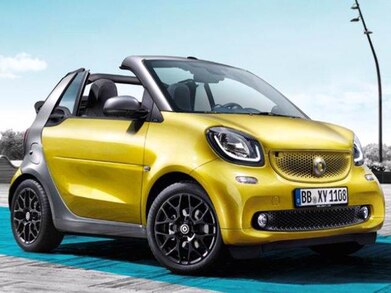 View more photos & videos (54)
Combined Fuel Economy
35 MPG
Pros
The Fortwo may be the ultimate city car. You can park in street spaces that are too small for a minicar, and its phenomenal turning radius makes it easy to maneuver through narrow city streets. There's room for only two, but those two will enjoy the Fortwo's surprisingly roomy cabin. The Electric Drive model will appeal to eco-conscious buyers with ready access to a 240-volt power supply and less than 70-75 miles of daily driving day.
Cons
If you want to drive around with more than one person, don't relish the idea of filling up with super unleaded, want fuel economy better than 38-highway mpg, or in the case of the Fortwo ED more than 75 (estimated) miles of range, there are better cars out there.
What's New For 2017
Smart continues its model rollout on the new-and-improved platform, which started with the all-new Fortwo coupe in 2016. 2017 brings a cabriolet and electric-drive models on the new platform. This year there are more customization options, including a Brabus Sport package.
Read less
Used 2017 smart fortwo cabrio Pricing
See how style, options and other factors can impact pricing in your area.
Used 2017 smart fortwo cabrio Expert Review
Charming, pint-sized and legitimately unique, the 2-seat Smart Fortwo is a city-dwelling car that isn't in the mainstream. The Smart Fortwo coupe was all-new last year, and the huge improvements make it the best Fortwo to date -- it's wider, with a new automatic transmission and a bevy of new standard features including Bluetooth and automatic climate control. The niche Fortwo isn't for everyone, as there's no rear seat and there are more practical cars available for the money, but those who want urban transport that stands out more than the larger Chevrolet Spark or Mitsubishi Mirage have this as an option. There's also a Smart Cabrio on the new platform for 2017, as well as an Electric Drive (ED) coupe and Cabrio.
Driving the Used 2017 smart fortwo cabrio
Thanks to the new 6-speed dual-clutch automatic transmission, gas-powered Fortwos are much more pleasant to drive than they were in the past. The engine is an 89-horsepower, 0.9-liter 3-cylinder that won't get you anywhere all that quickly, but the transmission's shifts are smoother and power delivery better than it was in the past. The current Smart Fortwo feels more stable on the highway than the first generation did, and ride quality is better around town. The Fortwo now feels more substantial and less toy-like. Thanks to its additional battery-related weight, an Electric Drive Fortwo feels even more substantial, with better on-center feel and highway stability close to that of a larger car. The instant-on power delivery from the electric powertrain also helps it feel quicker than the gasoline model, though they're both actually pretty slow.
Favorite Features
TRIDION CELL
The entire passenger compartment of the Fortwo is a high-strength steel cage called the Tridion safety cell. Thanks to the Tridion cell, the Fortwo can hold its own in the event of an accident, as proven in crash tests with much larger vehicles like the Mercedes-Benz S-Class.

TINY TURNING CIRCLE
Did you see that perfect parking spot across the street and want to get it before someone else snaps it up? Take advantage of the Fortwo's 22.8-foot turning circle, make a quick U-turn on a 2-lane city street, and be the envy of everyone who ogled that space. This is true whether one is driving the gas- or electric-powered Fortwo.
Used 2017 smart fortwo cabrio Interior
The Fortwo's cabin is surprisingly roomy for two, and its charming 2-tone color schemes make the interior feel spacious and welcoming. There are high-quality materials throughout, and the seats are more comfortable than you'd expect on longer drives. The interior isn't perfect though, as the steering wheel doesn't offer tilt or telescoping adjustment, and there are storage cubbies but they aren't all that useful.
Used 2017 smart fortwo cabrio Exterior
The Fortwo model line, starting with the gas coupe in 2016, benefited from all-new styling that carries on to the 2017 Cabrio and ED coupe. The large, round headlights and happy-to-see-you smiling grille on such a short car give the Fortwo the look of an enthusiastic puppy. The wider Fortwo looks more substantial than the first generation did, yet is about as long as some motorcycles. In the Fortwo Cabrio, a clever cutout in the rear hatch tailgate lets you stow the roof bars when you want the full convertible experience with the top down and the bars off.
Used 2017 smart fortwo cabrio Standard Features
Automatic climate control, daytime running lights, a multifunction steering wheel, Bluetooth connectivity and cruise control are standard fare. Crosswind assist is also standard, and welcome on this short-wheelbase car. With the gas-powered coupe and cabriolet, the standard transmission is a 5-speed manual. Power windows and power steering are standard, which you couldn't say about the Fortwo two years ago. A center armrest, however, is optional.
Used 2017 smart fortwo cabrio Options
You can opt for a height-adjustable driver seat, 8-speaker JBL sound system, panorama sunroof, a sport package with sport suspension, paddle shifters, proximity-warning safety feature, and a rear-tailgate storage compartment. If driving a stick doesn't appeal, Smart offers a 6-speed dual-clutch automatic transmission with the gas engine. For 2017, you can add fog lights with a cornering function to the optional lighting package. You can customize the Fortwo's color scheme, including the color of the Tridion cell and the grille. For even more customization, the Brabus Sport package has a lowered, retuned suspension and Brabus styling cues.
Used 2017 smart fortwo cabrio Engine
The Fortwo is available in two body styles, coupe and cabriolet, with either a gas engine or an electric powertrain. The gas engine is a 0.9-liter, 3-cylinder turbocharged engine that puts out 89 horsepower, backed by either a 5-speed manual or a 6-speed dual-clutch automatic. While the new-for-2016 dual-clutch automatic isn't all that smooth during low-speed parking maneuvers, it's a huge improvement over the transmission it replaces, and will give you better fuel economy than with the manual transmission. Note: The gas engine requires premium unleaded fuel. The 80-horsepower electric motor in the ED version is a smooth operator with only one transmission speed -- that's right, no shifts -- and is utterly silent in operation. The battery pack remains somewhat small at 17.8 kWh, though it can be charged from zero to 80 percent in 2.5 hours on a 240-volt outlet.

0.9-liter turbocharged inline-3
89 horsepower @ 5,500 rpm
100 lb-ft of torque @ 2,500 rpm
EPA city/highway fuel economy: 31/38 mpg (manual), 33/38 mpg (automatic)

3-phase synchronous electric motor
80 horsepower
118 lb-ft of torque
EPA city/highway fuel economy: N/A
Range on a full charge: est. 75 miles
Note: Due to changes in EPA testing to more effectively reflect real-world conditions, some 2017 models show slightly lower fuel-economy scores than their 2016 versions.

How Much Does the Used 2017 smart fortwo cabrio Cost?
The 2017 Smart Fortwo's Manufacturer's Suggested Retail Price (MSRP) is up only about $175 compared to last year. A base-model Smart Fortwo Pure coupe starts at $15,575, including the $925 destination fee. Choosing the automatic transmission adds $990. If you opt for the top-line Smart Fortwo Cabrio Proxy, you can spend upward of $24,000. For the electric models, Fortwo coupe pricing begins at $24,550, while the convertible starts at $28,750. Minicars like the Chevy Spark and Mitsubishi Mirage start at a lower price -- below $14,000 -- have two rows of seats, more cargo area, and pitiful resale value. Those who are looking at the Smart Fortwo, however, want something more than pure practical transportation. Do check the KBB.com Fair Purchase Price to see what others in your area are paying for their Fortwo.
Read less
Used 2017 smart fortwo cabrio Consumer Reviews
Based on 6 reviews
---
PugsNCars
06/18/2019
2016 smart fortwo
"Great Car, Little Package"
Great gas mileage, fun and sporty
No back seat, expensive entry into subcompact mkt
If you live and/or work in the city its a great car. It fits in the smallest spaces and delivers good get up and go acceleration. Zipping in town for errands is a breeze. The transmission is way better than the last model, smooth and consistent. The computer doesn't lag or keep you in the wrong gear which makes the ride pleasant. Updates such as power side mirrors, heated seats, blue tooth, leather seats make it a much more modern car. Space isn't an issue either so long as it's typical grocery trips and modest Costco runs. You shouldn't have
this car if you are a family of 4 or larger as it hold two people, and no back seats. The smart phone app also pairs easily and gives GPS which comes free. I have consistently gotten 41-45 mpg. Fill ups only are 8 gallons on absolute empty. Rear wheel drive is an added bonus for the sports aspect! It isn't a car for long hauls and the seats do not lay flat. Hours spent in the car would not be as comfortable. Big rigs going by also are noticeable given the tiny size and road bumps are felt as well. It takes premium fuel as a nod to the Mercedes engine. Rear wheel drive can be a downside as the tires are staggered fit and would need replacing in sets of two of different sizes and cannot be fully rotated for longevity and maximum wear. Great car and love it for what I use it for.
Read less
---
Mac
04/13/2018
2017 smart fortwo
"Its my 2nd one. Had an 09 and now a 2017."
Comfortable, highway capable, economical, FTD!
Not good if you want to carry station wagon loads
I bought a used 09 in 2014 and drove it to 130,000. Nothing wrong with it, but I got a deal on a 2017 that a could not pass up. I have had it for 11 months and have put 20000 miles on it. Had a problem with the radio but it was fixed at the 10000 check up. A big difference between the 09 and the 2017. The 17 has a much better ride than the 09 even though they are the same length. Much better pickup than the 09, but I was not that disappointed with it, but was impressed with the improvement. Interior appointments on both cars are typical
Mercedes. The new one is even better than the old one. Interior sound levels are much improved over the old model and the extra 2 inch width does make a difference. Automatic trans is much improved over the old one. The many complaints I read about the old one, which were very negative, were a bit over the top. Once you learned how to drive it, it wasnt so quarkey. As a daily runner, for one or two people, it is a great machine. Dealer ship check up are at Mercedes prices. Highway travel (20,000) in 11 months, are comfortable and inexpensive. Love the turning ability and the easy parking capability.
Read less
---
fullmoon
12/04/2017
2017 smart fortwo
"I love my Smart Car! It is the 2014 Bo Concept"
Fun, economical, safe & confortable
Which I would have wated for the 2015s
I love my Smart Car! It is the 2014 Bo Concept with high interior zippy, handles on a dime, I feel as safe in this as I do in my truck. With the 6 airbags and the Tridion steel safety shell is a hemispherical steel cage that encloses the interior of the car The IIHS gave the Fortwo top ratings in protecting passengers in front and side crashes. It is safer/as than many high end luxury Japanese/or US made with Chinese-India-wherever parts from the USA. Mileage is OK at 37+ mpg Premium = about 300 miles 8+ gallon fill up. I have driven my Smart t
o 97 mph in the US and while in Germany in 2014, I drove a relatives old American car all over Germany Autobahn, occasionally at almost 150 kph/93 mph and had a smart car pass me. I was impressed at the German dealership. Bought my new 2014 Bo Concept Smart fortwo with its interior by Dansk, its total Luxury.
Read less
---
2017 smart fortwo cabrio Specs & Features
Based on lowest-priced style.
Technology
Bluetooth Wireless Technology

Cruise Control

Hands Free Phone

Navigation System

Remote Keyless Entry

Touch Screen Monitor

USB Port

Voice Recognition System
Entertainment
AM/FM Radio

Premium Radio

Auxiliary Input Jack

Bluetooth Streaming Audio

CD Player
Seating
Cloth Seats

Heated Front Seats
Comfort & Convenience
Front Air Conditioning

Power Locks

Automatic Air Conditioning

Interior Ambient Lighting

Power Liftgate/Trunk Release

Remote Control Liftgate/Trunk Release
Fuel Economy
EPA City - 34 mpg

EPA Class - Two Seaters

EPA Hwy - 39 mpg

EPA Combined - 36 mpg
Performance
Horsepower - 89 hp

Torque - 100 foot pounds

0 to 60 - 10.1 seconds

Top Speed - 96 mph
Interior
Cup Holder

Leather-Wrapped Steering Wheel

Power Windows

Rear Window Defroster

12V Power Outlet

Power Outlet
Exterior
Alloy Wheels

Heated Mirrors

Number of Doors - 2 doors

Power Mirrors

Tires / Wheel Size - 15"

Tires / Wheel Size - 16"

Upgraded Wheels

Wheel Type - Alloy

Fog Lights

LED Daytime Running Lights

LED Tail Lights

Rain Sensing Windshield Wipers
Warranty
Basic Miles - 50000 miles

Basic Years - 4 years
Mechanical
Alternator Amps - 85 amps

Axle Ratio - 4.50

Brakes: Front - Disc

Brakes: Rear - Drum

Braking System - Anti-Lock

Drivetrain - RWD

Engine Type - Gas

Power Steering

Transmission Type - Automatic

Cylinders - 3 cylinders

Displacement - 1.0 liter

Engine Configuration - Inline

# of Speeds - 6 speed

CCAs (Cold Cranking Amps) - 550 amps

Recommended Fuel - Premium

Anti-Lock Brakes

Hill Start Assist

Paddle Shifters
Dimensions, Weights & Capacities
Fuel Capacity - 9.2 gallons

Height - 61.1 inches

Max Seating Capacity - 2

Overall Length - 106.1 inches

Standard Seating Capacity - 2 passenger

Towing Capacity, Maximum - Not Recommended

Turning Diameter - 22.8 feet

Wheel Base - 73.7 inches

Width with mirrors - 65.5 inches
See less
2017 smart fortwo cabrio Safety
Crash Test Rating
Safety information is currently not available for this vehicle.
Please check back in the future.
2017 smart fortwo cabrio Safety Technology
Child Seat Anchors

Driver Airbag

Passenger Airbag

Stability Control

Traction Control

Driver Knee Airbag

Front Head Curtain Airbag

Front Knee Airbag

Front Side Airbag
2017 smart fortwo cabrio Rankings
Consumer Ratings
4.2 Rating