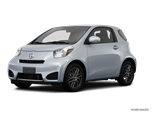 2014 Scion iQ models gain a new display audio system that features a 6.1-inch LCD touch screen, HD Radio and Bluetooth connectivity. In celebration of Scion's 10th anniversary is the limited-edition 10 Series version with features like special wheels, unique interior illumination and commemorative badges.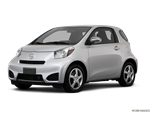 The 2013 Scion iQ is updated with content previously optional including the passenger under-seat tray, rear-deck box cover and rear speakers.
About Scion iQ
The 2014 Scion iQ is among a crop of tiny cars that emphasize high fuel economy, low entry cost and stylish design. Like the Fiat 500 and Chevrolet Spark, the iQ boasts youthful looks and more refinement than the Smart Fortwo. When that latter car arrived in the U.S. in 2008, its toy-like dimensions drew quizzical looks, but now these microcars are gaining wider acceptance. This is especially true in crowded cities, where the iQ excels as a runabout that can squeeze into the tightest parking spots. If your needs focus on highway cruising or ferrying more than one extra passenger, the iQ's size is a detriment, but if you just require an inexpensive and efficient errand runner, the iQ begins to look like an intelligent choice.