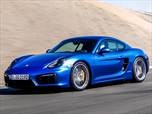 For 2016, Porsche unleashes the Cayman's full potential with the introduction of the GT4. Borrowing its engine from the Carrera S and brakes and suspension bits from the GT3, this manual-transmission-only, limited-run Cayman won't be sitting on the dealer lot for long.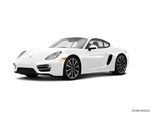 Fresh from its remake last year, the Porsche Cayman sports coupe rolls into 2015 with a new, high-performance GTS model. The 2015 Cayman GTS includes a more powerful engine, 20-inch Carrera S wheels, sport seats and soft Alcantara wraps for the steering wheel, seats inserts and headliner.
About Porsche Cayman
Although the consummate Porsche will always be the 911, the entry-level 2016 Cayman coupe serves up a driving experience that is both exhilarating and a bit primal. A spin in Porsche's 2016 Cayman mid-engine coupe is like stepping back to a time when the driver, not a phalanx of electronic nannies, was responsible for piloting the car. Sure, you can find better straight-line performance from a Nissan 370Z or Chevrolet Corvette, but neither feels as connected to the driver when carving up curves. With a choice of four equally desirable flat-6 boxer engines and a long list of advanced features, including a Burmester audio system and adaptive cruise control, the Cayman asks you to sacrifice nothing in the pursuit of having everything.