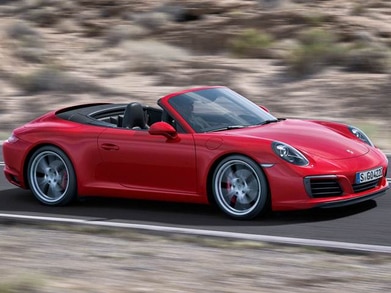 Combined Fuel Economy
23 MPG
Pros
If you're looking for an exotic sports car that makes a statement and always says the right thing, you'll like the 2018 Porsche 911. With a unique blend of speed, technology, refinement, timeless style, exceptional build quality and daily practicality, many feel the Porsche 911 is the best all-around sports car in the world.
Cons
If you're looking for the absolute most speed for the money, the Porsche 911 doesn't deliver. Chevy's Corvette, which has been the 911's rival for over 50 years, delivers similar performance as the Porsche at a radical discount. The new Corvette ZR1 even packs 755 horsepower, which dwarfs the 911's max output.
What's New For 2018
Porsche significantly updated the 911 for the 2017 model year, so little changed for 2018 in terms of equipment and options other than a new (optional) Powerkit that bumps Carrera S and 4S models from 420 horsepower to 450 horsepower — matching the power output of the GTS. All 2018 Porsche 911 models now come with free scheduled maintenance for the first year, which should cover the first oil change. In other news, the automaker expanded the 911 range with three new models: The new 911 Carrera T targets enthusiasts with a lightened chassis and several performance upgrades. The GT3 Touring is a wingless, and manual-transmission-only, version of the track-ready GT3. Lastly, the 911 GT2 RS debuts as a 700-horsepower flagship.
Read less
2018 Porsche 911 Pricing
Get Kelley Blue Book® Pricing
See how style, options and other factors can impact pricing in your area.
2018 Porsche 911 Expert Review
As the unique and premier sports car in the world, the 2018 Porsche 911 is an automotive and cultural icon. Just as it has since the mid-1960s, it remains the German automaker's flagship, its showcase for style, technology and ultimate performance. Today the new Porsche 911 is available in three body styles and eight distinct models, some with all-wheel drive and powerful turbocharged 6-cylinder engines, which are mounted in the rear. While most sports cars only seat two, the Porsche 911 has a small back seat that is surprisingly useful, as well as a sizable front trunk or "frunk." Prices start around $92,000 for a 911 Carrera Coupe with 370 horsepower and top out at almost $295,000 for the 700-horsepower 911 GT2 RS. The 911 competes with the Chevrolet Corvette, Jaguar F-Type, Aston Martin Vantage, Mercedes-AMG GT, as well as supercars from Ferrari, Lamborghini and McLaren.
Driving the 2018 Porsche 911
The 2018 Porsche 911 is fast enough to get you arrested anywhere in the world, but comfortable enough to be driven every single day. Last year Porsche replaced its naturally aspirated engines with twin-turbo versions that deliver even greater thrust and improved fuel efficiency. Sure the purist porschefisti protested, but the benefits are undeniable and the engines sound as sexy as they should. A 7-speed manual transmission is available in most models, but the 7-speed PDK twin-clutch automatic is equally enjoyable, thanks to its lightning-quick shifts and easy drivability. The standard Porsche Active Suspension Management (PASM) system uses active dampers to both smooth out the ride and tackle corners, without compromising its famous precision. Optional rear-wheel steering helps to both increase maneuverability in parking lots while improving stability at high speeds. And the Sport Chrono package includes a Drive Mode Selector on the steering wheel to select different performance settings.

The new-for-2018 911 Carrera T boasts thin glass, reduced acoustic insulation, and minimalist lightweight racing pull straps (instead of traditional door handles) to save weight. The diet sheds about 40 pounds, but dynamically it drives nearly identical to the standard Carrera. Some may note a more vocal engine soundtrack, which is credited to standard Sport Exhaust. Expert drivers will be able to wring more performance out of the Carrera T, thanks to more aggressive transmission gearing (with the manual gearbox) and a limited-slip differential.

The new-for-2018 GT3 Touring is a street-legal racecar with a high-revving 500-horsepower non-turbocharged engine -- the only naturally aspirated engine in Porsche's model range. Mated to a standard 6-speed manual gearbox (standard Carrera models have a 7-speed manual, but Porsche drops the overdrive ratio on the GT3), the powerplant is an absolute turbine-like jewel. With rear-wheel drive, sport-tuned suspension, aggressive tires, and oversized brakes, the GT3 Touring delivers impressive levels of performance without sacrificing too much in terms of ride quality. Unlike the standard GT3, which boasts a massive rear wing that blocks much of the view to the rear, the Touring model accomplishes similar aerodynamic tricks with discreet appendage tweaks and an active rear spoiler that drops out of sight when not needed. The GT3 Touring is a high-performance sports car for those who like to travel in stealth mode.

Lastly, the new 911 GT2 RS is one of the quickest street vehicles the automaker has ever built -- it laps the famed Nürburgring racetrack quicker than Porsche's 918 supercar. With 700 horsepower, it accelerates from 0-60 mph in just 2.7 seconds -- validating its nearly $300,000 asking price. Limited production numbers and a lofty window sticker make the GT2 RS one very rare sports car.
Favorite Features
FRONT AXLE LIFT SYSTEM
Although the Porsche 911 is less prone to scraping over driveways and speed bumps than other cars in this class, it's still a low-slung sports car. This optional hydraulic system, which costs $2,590, raises the front axle 1.5 inches at the push of a button to increase ground clearance at speeds up to 37 mph.

PORSCHE CERAMIC COMPOSITE BRAKES
The power of Porsche brakes is legendary, but this optional system is the ultimate and it's one of the 911's most expensive options at $8,520. It's worth it. Porsche replaces the 911's cast-iron brake rotors with larger cross-drilled and vented carbon-fiber-reinforced units, which are almost impossible to overheat, even on the racetrack.

2018 Porsche 911 Interior
In most sports cars you feel like you're sitting on the floor, looking up at the world. Not in the 911. In the Porsche you sit upright, in a very natural driving position, with excellent visibility in all directions. It's one of the reasons the Porsche 911 can be driven every day as well as comfortably cross-country. Build quality is exceptional. Some find the Porsche's control layout a bit button-heavy, but you soon realize the ergonomics is simple and the controls are exactly where they should be, although Porsche still places the 911's ignition to the left of the steering wheel, which takes some getting used to.
2018 Porsche 911 Exterior
Some people think the Porsche 911 has looked the same since 1965. Some people think this is a good thing. Some people think the evolution of the 911's shape has created the most recognizable sports car in the world. As other supercars have become vulgar, often pornographic and at times caricatures of themselves, the new Porsche 911 remains simply aspirational. It's a sexy machine with wide hips and a sinister stance, but retains an unmistakable understated elegance lost on the Porsche's more radically styled competitors. It turns heads, but never draws a sneer. And the valet always keeps it up front.
2018 Porsche 911 Standard Features
Along with the new turbocharged engines, every 2018 911 comes with Porsche Active Stability Management suspension and a year of scheduled maintenance. The 911 Carrera and Targa 4 and Turbo models offer all-wheel drive (AWD) as standard fare. There are also eight airbags, a wide array of electronic stability aids, and high-performance brakes comprising 4-piston calipers and 13-inch ventilated rotors. Other standard features on the new Porsche 911 include 4-way-power front seats with manual fore/aft adjustment, partial leather upholstery with a faux-suede headliner, xenon headlights for high and low beams, dual-zone climate control, new touch-screen LCD infotainment (with Apple CarPlay), and a 9-speaker audio system with USB input and Bluetooth phone connectivity.
2018 Porsche 911 Options
It's not possible to get into every option available for the 2018 Porsche 911. There's a rear-wheel steering system that enhances low-speed maneuverability and high-speed stability, and a front-axle lift system that lifts the nose of the car 1.5 inches to clear low-speed obstacles like steep driveways. Other optional features include multi-adjustable ventilated front seats, 12-speaker Burmester audiophile system, ceramic-composite brakes, Sport Chrono package that includes launch-control programming (PDK transmission only) and overboost function, and Dynamic Chassis Control (PDCC), which essentially eliminates body roll through a multitude of sensors and hydraulic motors while also providing a more compliant ride in normal driving conditions.
2018 Porsche 911 Engine
The 911's classic flat-6 "boxer" engine comes in three sizes, but in different power outputs. The 911 S models get more power, while 911 4 models get all-wheel drive, unless it's already standard as it is on the 911 Turbos. It all breaks down like this: 370-horsepower 3.0-liter for Carrera, Carrera T, Carrera 4, Carrera Cabriolet, Carrera 4 Cabriolet, Targa 4; 420-horsepower 3.0-liter for Carrera S, Carrera 4S, Carrera S Cabriolet, Carrera 4S Cabriolet, Targa 4S; 540-horsepower 3.8-liter for 911 Turbo, 911 Turbo Cabriolet; 580-horsepower 3.8-liter for 911 Turbo S, 911 Turbo S Cabriolet; 500-horsepower 4.0-liter for GT3, GT3 Touring; and 700-horsepower 3.8-liter for GT2 RS. The Turbos are all all-wheel drive (AWD), while the GT3 and GT2 RS are rear-wheel drive (RWD) only. Premium fuel is required for all models.

3.0-liter twin-turbocharged flat-6 (911 Carrera, Carrera T, Carrera 4, Carrera Cabriolet, Carrera 4 Cabriolet, Targa 4)
370 horsepower @ 6,500 rpm
331 lb-ft of torque @ 1,750-5,000 rpm
EPA city/highway fuel economy: 22/30 mpg (RWD/automatic coupe), 22/28 mpg (RWD/automatic cabriolet; AWD/automatic coupe & Targa), 21/28 mpg (AWD/automatic cabriolet), 20/29 mpg (RWD/manual coupe & cabriolet), 20/28 mpg (AWD/manual coupe), 19/28 mpg (AWD/manual cabriolet & Targa)

3.0-liter twin-turbocharged flat-6 (911 Carrera S, Carrera 4S, Carrera S Cabriolet, Carrera 4S Cabriolet, Targa 4S)
420 horsepower @ 6,500 rpm
368 lb-ft of torque @ 1,700-5,000 rpm
EPA city/highway fuel economy: 20/29 mpg (RWD/manual coupe), 22/28 mpg (RWD/automatic coupe & cabriolet), 21/28 mpg (AWD/automatic coupe & cabriolet), 20/28 mpg (RWD/manual cabriolet; AWD/manual coupe), 21/27 mpg (AWD/automatic Targa), 19/28 mpg (AWD/manual cabriolet & Targa)

3.0-liter twin-turbocharged flat-6 (911 Carrera GTS, Carrera GTS Cabriolet, Carrera 4 GTS, Carrera 4 GTS Cabriolet, Targa 4 GTS)
450 horsepower @ 6,500 rpm
405 lb-ft of torque @ 2,150-5,000
EPA city/highway fuel economy: 20/26 mpg (RWD/automatic coupe & ; AWD/automatic coupe & Targa), 20/25 mpg (AWD/automatic cabriolet), 18/26 mpg (RWD/manual coupe & cabriolet; AWD/manual coupe, cabriolet & Targa)

4.0-liter flat-6 (911 GT3)
500 horsepower @ 8,250 rpm
339 lb-ft of torque @ 6,250 rpm
EPA city/highway fuel economy: 15/20 mpg (automatic), 13/21 mpg (manual)

3.8-liter twin-turbocharged flat-6 (911 Turbo, 911 Turbo Cabriolet)
540 horsepower @ 6,400 rpm
486 lb-ft of torque @ 1,950-5,000 rpm (523 lb-ft w/overboost)
EPA city/highway fuel economy: 19/24 mpg (AWD/automatic coupe & cabriolet)

3.8-liter twin-turbocharged flat-6 (911 Turbo S, 911 Turbo S Cabriolet)
580 horsepower @ 6,750 rpm
516 lb-ft of torque @ 2,100-4,250 rpm (553 lb-ft w/overboost)
EPA city/highway fuel economy: 19/24 mpg (AWD/automatic coupe & cabriolet), 17/23 mpg (Turbo S Exclusive)
3.8-liter twin-turbocharged flat-6 (911 GT2 RS)
700 horsepower @ 7,000 rpm
553 lb-ft of torque @ 2,500-4,500 rpm
EPA city/highway fuel economy: 15/21 mpg
How Much Does the 2018 Porsche 911 Cost?
Starting with a Manufacturer's Suggested Retail Price (MSRP) of about $90,000 for a standard Carrera, and stretching to more than $294,000 for a GT2 RS, the 2018 Porsche 911 lineup covers virtually every high-end price point and performance level. And that's before selecting options, which can add tens of thousands of dollars. The upshot is that the 911 competes against just about anything, from a Nissan GT-R to the Jaguar F-Type, Maserati GranTurismo, Mercedes-Benz AMG GT S Coupe and Audi R8...and of course the Chevrolet Corvette. You get more bang for your buck with the $60,000 Dodge Challenger SRT Hellcat and its 707-horsepower supercharged V8, and even the Corvette Z06 and ZR1 are better values, giving all the performance of a 911 Turbo and GT3 for half the price. Check the KBB.com Fair Purchase Price to see what others are paying. It's also good to know that this automotive icon holds its value well.
Read less
2018 Porsche 911 Consumer Reviews
---
Mike G
04/03/2019
2016 Porsche 911
"Pure driving experience!"
Likes to stretch legs on the open road
The '16 Porsche GTS has 430hp of useable power. The cockpit is modern with fit that feels like a glove when you get in the seat. The external styling is clean and follows the styling cues of the rich 911 history. The rear hips are wide and beautiful. This car can be described as art. From the moment you turn the key, this car will put a smile on your face ear to ear!
---
Zozol
09/12/2018
2013 Porsche 911
---
Vic
02/29/2016
2015 Porsche 911
"Fastest car I have ever owned"
engine and cornering limits
low front end, but that is what makes it handle
This is truly a race car for the street. For the last 15 years I have been a competitor in national SCCA races. I have raced everything from a spec Miata to a Porsche 930 turbo. The first time on the track with this car I ran 5 seconds faster than my fastest lap in a pure race car. This was 100% stock, no race setup, no race tires. The PDK was the biggest reason I hesitated in buying this car. This is the first "automatic" I have ever owned. But on the track or around town it is so quick I understand why Porsche does not want to give up the per
formance and install a manual. The engine is the high point of this car. After the long break in period the first run to 9000 rpms is mind bending. Going down the front straight at TWS when the car shifts from 2nd to 3rd at 120 mph and kicks you forward, you cannot wipe the smile off of your face. You have to be careful driving in town since the front end is very low. Every curb or driveway is a threat. I have the front axle lift system and feel it should be standard equipment.
Read less
---
911 PDK
02/19/2016
2015 Porsche 911
"Fantastic performance, but..."
performance, sound, looks
electrical and mechanical reliability is subpar
This is the third 911 I've purchased new. My previous was a 2010 997 with PDK (by Aisin). I sold it at 73,000 miles. I had many electrical and mechanical problems during warranty and post warranty. EGV replacement took 45 days (45 days at dealer), excessive oil consumption with no improvement, window regulator failure, NAV system failure, ABS failure, numerous check engine lights, and leaking sunroof. The only part that didn't fail was the PDK and lighting. Interestingly, those two are made in Japan. The new 2015 I bought has been almost the sa
me amount of problems, thus far. Last November, I lost power during a highway drive. Turned out three cylinders failed and I was driving a three-banger. The repair took over 20 days. This is a great performer and looker but comes with its problems.
Read less
---
Fish
10/19/2015
2012 Porsche 911
The 911 Turbo S ... will blow your mind with it's all wheel drive handling and 0-60 times. There is no better fun than the launch control that blasts you from a stand still to 60 mph in what I have timed over and over again ( dry road ) in under 3 seconds. It will continue to fly until you say uncle and you will. This car will go as fast as any normal person would want to drive. In saying that it is completely in control with the PSM on it grips the road with plenty of downforce. Porsche is very modest when they say 3.2's.0-60..but... No way it
is faster..this thing is a beast off the line and handles the corners equally as well. Absolutely no fine tuning needs to be done to it straight off the showroom floor it is engineered to perfection! Put it on your must have before you die wish list and save your pennies.
Read less
---
2018 Porsche 911 Specs & Features
Based on lowest-priced style.
Technology
Bluetooth Wireless Technology

Cruise Control

Hands Free Phone

Navigation System

Remote Keyless Entry

Telematics / Communication Systems

Adaptive Cruise Control

Internet Access

Smartphone Interface

Touch Screen Monitor

USB Port

Voice Recognition System
Entertainment
AM/FM Radio

iPod Connector

MP3 Player

Premium Radio

Satellite Radio

Auxiliary Input Jack

CD Player

HD Radio

iPod Interface
Seating
Folding Rear Seat

Dual Power Front Seats

Heated Front Seats

Leather Seats

Power Driver's Seat

Power Passenger's Seat

Ventilated Front Seats
Comfort & Convenience
Front Air Conditioning

Power Locks

Auto-Dimming Interior Mirror

Automatic Air Conditioning

Dual-Zone Automatic Air Conditioning

Heated Steering Wheel

Integrated Garage Door Opener
Fuel Economy
EPA City - 20 mpg

EPA Class - Mini Compact Cars

EPA Hwy - 29 mpg

EPA Combined - 23 mpg
Performance
Horsepower - 370 hp

Horsepower RPM - 6500 rpm

Stroke - 2.99 inches

Torque - 331 foot pounds

Torque RPM - 1700 rpm

0 to 60 - 4.6 seconds

Top Speed - 181 mph
Interior
Cup Holder

Leather-Wrapped Steering Wheel

Power Windows

Rear Window Defroster

12V Power Outlet

Leather Interior Trim

Power Outlet

Tilt Steering Wheel

Tilt/Telescoping Steering Wheel

Wood Interior Trim
Exterior
Alloy Wheels

Automatic Headlights

Heated Mirrors

HID Headlights

Number of Doors - 2 doors

Power Mirrors

Privacy Glass

Tires / Wheel Size - P235/40ZR19

Upgraded Wheels

Wheel Type - Alloy

Rear Tires / Wheel Size - P295/35ZR19

Tire Type - Summer

Automatic Leveling Headlights

Fog Lights

LED Daytime Running Lights

LED Headlights

LED Tail Lights

Power Folding Exterior Mirrors

Power Retractable Soft Top

Rain Sensing Windshield Wipers

Rear Spoiler
Warranty
Basic Miles - 50000 miles

Basic Years - 4 years

Corrosion/Rust Through Miles - Unlimited miles

Corrosion/Rust Through Years - 12 years

Powertrain Miles - 50000 miles

Powertrain Years - 4 years

Roadside Assistance Miles - 50000 miles

Roadside Assistance Years - 4 years
Mechanical
Brakes: Front - Disc

Brakes: Rear - Disc

Braking System - Anti-Lock

Drivetrain - RWD

Engine Immobilizer

Engine Type - Gas

Engine Sub-Type - Twin Turbo

Power Steering

Tachometer

Transmission Type - Manual

Cylinders - 6 cylinders

Displacement - 3.0 liter

Bore - 3.58 inches

Compression Ratio - 10.0

Valve Train - Dual Overhead Cam

Engine Configuration - Inline

Max Engine Speed - 7500 rpm

# of Speeds - 7 speed

Recommended Fuel - Premium

4-Wheel Disc Brakes

Anti-Lock Brakes

Locking Rear Differential

Parking Assist System
Dimensions, Weights & Capacities
Curb Weight - 3307 pounds

Fuel Capacity - 16.9 gallons

Height - 50.9 inches

Max Seating Capacity - 4

Overall Length - 177.1 inches

Standard Seating Capacity - 4 passenger

Towing Capacity, Maximum - Not Recommended

Trunk or Cargo Capacity - 5.1 cubic feet

Wheel Base - 96.5 inches

Width with mirrors - 77.9 inches

Width without mirrors - 71.2 inches
See less
2018 Porsche 911 Safety
Crash Test Rating
Safety information is currently not available for this vehicle.
Please check back in the future.
2018 Porsche 911 Safety Technology
Driver Airbag

Passenger Airbag

Stability Control

Traction Control

Blind-Spot Alert

Driver Knee Airbag

Front & Rear Parking Sensors

Front Head Curtain Airbag

Front Knee Airbag

Front Side Airbag

Rear Head Curtain Airbag

Rear Parking Sensors

Rear View Camera
2018 Porsche 911 Rankings
Consumer Ratings
4.9 Rating