2016 Brand Image Awards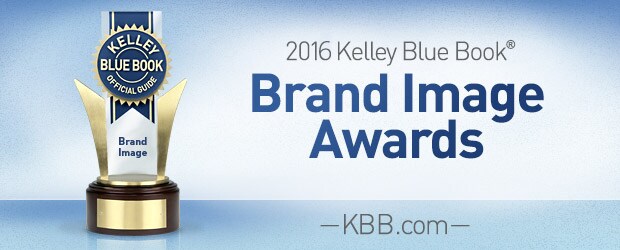 About the Brand Image Awards
Is a product's brand important to you? Would you prefer to buy a name-brand T-shirt, vacuum cleaner or kitchen cleanser than a non-branded version? Do you like some brands and have a personal dislike of others? Do you think some brands express the way you feel about yourself more than other brands do?
If you answered yes to any of these questions, then you will likely find some items of interest in our Kelley Blue Book Brand Image awards. The awards recognize automakers' outstanding achievements in creating and maintaining brand attributes that capture the attention and enthusiasm of the new-vehicle buying public.
Best Brands
Each year the Kelley Blue Book Strategic Insights team tracks consumers' perceptions of various automotive brands in its Brand Watch study. The team then leverages the results of that study in compiling the Kelley Blue Book Brand Image Awards, which highlight standout brands in a variety of categories. Based on consumers' impressions of various vehicle attributes, KBB names winners of Best Overall Brand, Most Trusted Brand, Best Performance Brand and more. This year the ongoing Brand Watch study tapped the sentiments of more than 12,000 in-market new-vehicle shoppers doing their research at KBB.com.
The Brand Image Awards include 13 winners across seven categories, and they recognize automakers' outstanding achievements in creating and maintaining brands that engender enthusiasm among new-vehicle buyers. The trophies are presented to the winning automakers on the floor of the New York Auto Show.
And with that, let's meet the Brand Image Award winners of 2016, starting strong with the two Best Overall Brand awards.