2013 Best Resale Value Awards: Sporty Compact Car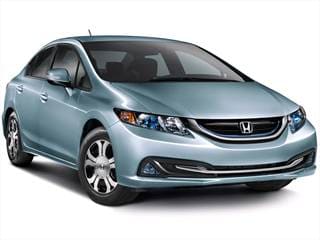 For nearly three decades the Honda Civic Si has proved you don't need to spend big bucks to have a compact car that's truly fun to drive. Today, this sport version of Honda's venerable compact sedan and coupe continues to stand out as much for its zippy performance as its ability to retain value.
At the heart of the 2013 Civic Si is a 2.4-liter 4-cylinder engine that generates a respectable 201 horsepower. What makes the Si so joyous is not sheer power, but its overall synergy. A driver's car, the Civic Si is only available with a 6-speed manual transmission. That might make some potential buyers shy from the Si, but those willing to do the work are rewarded with an engaging driving experience that includes good steering feel and a suspension that invites you to dive into corners.
For all of its excellent driving mannerisms, the Si is still a Civic. That brings with it a reputation for reliability, good fuel economy, and the ability to seat up to five people in either sedan or coupe form.
As it has in the past, the Civic Si won't create a crater in your pocketbook with its starting price in the low $20,000 range. That money will buy you a supremely enjoyable and reliable sporty car today that will still be worth top dollar down the road.
---

Resale Value
at 36 months:

64.0%

at 60 months:

44.0%
Hair-raising performance meets hatchback functionality and value pricing in the MazdaSpeed3, the wild child in Mazda's lineup.
---

Resale Value
at 36 months:

63.2%

at 60 months:

43.4%
The turbocharged, all-wheel-drive Subaru Impreza WRX is rooted in rally racing, but also works well for snowy commutes.