2013 Best Resale Value Awards: Mid-Size Pickup Truck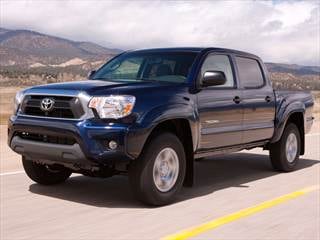 The Toyota Tacoma has dominated the mid-size truck segment for the better part of a decade, and for good reason. With rock solid reliability, rugged good looks all-around versatility, the Tacoma maintains among the highest resale values in the industry.
Compared to larger full-size pickups, the Tacoma is vastly more nimble in tight confines. Not surprisingly, the Toyota Tacoma excels off-road, with its reinforced ladder frame, available locking rear differential and generous suspension travel enabling it to overcome a variety of challenging obstacles. On pavement, the Tacoma handles better than you might expect. The traditional hydraulic-assisted steering is responsive and properly weighted, and the brakes are powerful and easy to modulate.
On the capability side, the 2013 Tacoma can tow and haul more weight than some full-size pickups, but without the extra bulk. In addition, the Tacoma's flexible cargo bed incorporates features like adjustable tie-down cleats and a sheet-molded composite liner. Be it the regular, extended-cab or roomy crew-cab body style, there is a Toyota Tacoma to fit just about any utility need.
Available in nearly two dozen model configurations, pricing for the 2013 Toyota Tacoma ranges from about $18,000 in base form to right around $37,000 for a fully-loaded crew cab long bed. While the Nissan Frontier and the Suzuki Equator carry comparable starting prices, they are simply no match for the stalwart Tacoma when it comes to available features, durability, and most importantly, resale value.
---
Other Category Winners
Best Mid-Size Pickup Truck