2013 Best Resale Value Awards: Mid-Size Car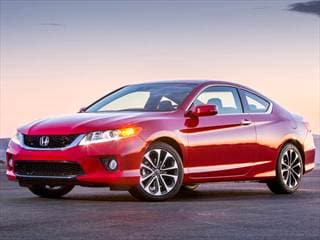 The venerable Honda Accord was looking increasingly vulnerable in recent years as high-style, high-tech, and high-mileage competitors claimed market share in the family sedan segment. But the Honda that has been made in America for 30 years and is now part of our very fabric has no intentions of backing down, as shown in its new form and its best-in-class resale value.
For 2013, the Accord has stepped up to competitors with an all new exterior and interior, more safety features, and its best fuel economy yet. Honda has ditched the Accord's aging 5-speed automatic transmission for a modern continuously variable version, the first such use of a CVT in an Accord. The benefit is eyebrow-raising fuel economy of up to 36 mpg on the highway, with a smooth, comfortable and quiet ride to boot.
Thankfully, Honda hasn't denatured the new, ninth-generation Accord in the quest for stellar fuel economy. The 2013 Accord's driving dynamics are good, its interior is impressive, and the new 4-cylinder is just as powerful as previous versions even though it's more efficient. For those seeking more power, Honda offers a V6 engine in both the Accord sedan and coupe. The V6 is not only impressive for its potent 278 horsepower, but its class-leading 34 mpg highway figure. We really enjoy how the Accord coupe comes alive with this engine and a 6-speed manual transmission.
For all its improvements and available technology such as a blind-spot monitoring system and adaptive cruise control, the 2013 Accord remains competitively priced, starting under $23,000. Five years down the road, the Accord is still expected to dominate in resale value.
---

Resale Value
at 36 months:

55.3%

at 60 months:

42.3%
The Ford Fusion enters 2013 as an ultra-sleek sedan with unexpected driving dynamics, high-tech features, and a hybrid version that attains 47 mpg.
---

Resale Value
at 36 months:

55.7%

at 60 months:

39.9%
With up to 38 mpg, the all-new Altima can travel far before refueling, making features such as its NASA-inspired zero-gravity front seats that much more appealing.