2012 Best Resale Value Awards: Luxury Car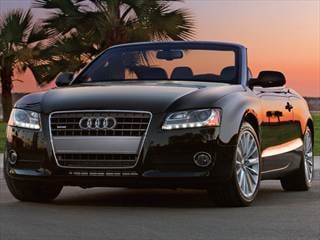 Audi's substantial growth in the U.S. is due in part to cars like the A5. As a refreshingly unique luxury 2-door the 2012 Audi A5 not only constitutes a viable alternative to the 3 Series but, in an era of diminishing resources, perhaps a financially prudent step-down from Bentley's Continental GT. And while we're not sure Windsor Castle would approve, we know it would play well on California's 101. And buyers who consider resale value as well as purchase price might consider the 2012 Audi A5 to be the best luxury car on the market.
In motion the 2012 A5's all-independent suspension is supple, the steering amazingly direct, and the overall comfort level high. As for power the A5's base 2.0 liter TFSI turbocharged four-cylinder performs well, with adequate horsepower (211) and prodigious levels of torque (258 lb-ft). We should also mention the available Quattro all-wheel drive system, which utilizes a 40-percent front/60-percent rear torque split in most driving situations, imparting the A5 with impeccable balance.
Audi is known for its brilliant interiors, so it's unsurprising that the 2012 A5's interior delights with plush materials and leather-upholstered front buckets providing a rare blend of accessibility and lateral support. Outside, the A5's striking exterior design is defined by a mono-form grille, sculpted side contours and a crisp character line running the length of the car. Finally, the A5 Cabriolet's use of a cloth roof has the practical benefit of not impeding (significantly) available trunk space when dropped.
The Manufacturer's Suggested Retail Price (MSRP) for the A5 Coupe with manual transmission is just under $37,000. In terms of resale values Audi's predicted residual numbers are almost stratospheric, with the A5 Coupe performing significantly better than both BMW's 3-Series Coupe and Mercedes-Benz's E350 Coupe.
---

Resale Value
at 36 months:

56.0%

at 60 months:

34.0%
With two seats, a retractable hard top, a rich interior and sporty demeanor, the SLK embodies the fun side of luxury.
---

Resale Value
at 36 months:

51.5%

at 60 months:

33.5%
The Lexus LS is a large luxury sedan and a brand flagship, making it a rolling showcase for Lexus' hybrid systems and other advanced technologies.