2018 Best Resale Value Awards: Hybrid/Alternative Energy Car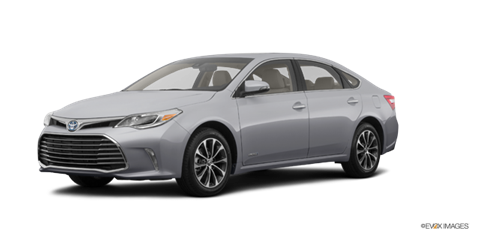 The Toyota Avalon Hybrid boasts two traits that are usually at odds with one another: full-size sedan roominess and high fuel efficiency. But leave it to Toyota, maker of the Prius hybrid, to find a way to make a large sedan boast the fuel efficiency of an economy car. The Avalon's successful formula hardly ends there. Like the standard Avalon, the hybrid version has the best resale value in its class.
The 2018 Avalon Hybrid attains its stellar fuel economy - 40 mpg city/39 highway -- thanks to a powertrain that pairs a gasoline engine and a battery-fed electric motor, similar to the Prius and other Toyota hybrid variants of popular models like the Camry sedan and Highlander SUV. Where the standard Avalon uses a stout V6 engine, the Avalon Hybrid employs a thrifty 4-cylinder paired with its electrified system.
Things the 2018 Toyota Avalon Hybrid doesn't sacrifice are the comfort and features that have long made the Avalon a favorite for buyers seeking a roomy, quiet and substantial sedan. Safety is another highlight. The latest Avalon comes with Toyota Safety Sense P, which bundles features like pedestrian detection and automatic braking. With options like climate-controlled leather seats, a power rear sunshade and wireless phone charging, the Avalon Hybrid begins to look more like its upscale cousin, the Lexus ES hybrid.
Whichever way you configure an Avalon Hybrid, you'll get a roomy, efficient family sedan that combines comfort on the road with financial peace of mind.
---

Resale Value
at 36 months:

45.0%

at 60 months:

31.0%
The all-new Honda Clarity Plug-in Hybrid has the flexibility to run on electricity or gasoline, all while offering a bevy of features and strong predicted resale value.
---

Resale Value
at 36 months:

46.1%

at 60 months:

30.1%
The elder statesman of hybrids, the Toyota Prius is synonymous with efficiency. The latest version carries that torch further while retaining exceptional resale value.
---
Other Category Winners
Best Hybrid/Alternative Energy Car