2015 Best Resale Value Awards: Hybrid/Alternative Energy Car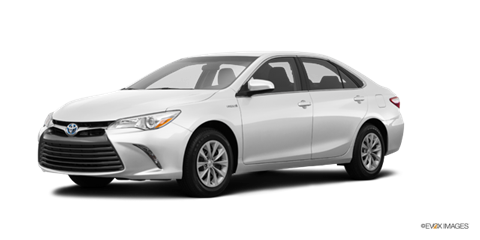 The Toyota Camry Hybrid tends to fly under the radar where gas-electric hybrids are concerned, and for many buyers that only adds to its appeal. Where its Prius brother is more overt in its fuel-sipping ways and is the best-known Toyota hybrid, the beauty of the Toyota Camry Hybrid is that, for most intents and purposes, it looks, drives and behaves like every other Camry. This one just happens to boast the best the fuel economy of them all, which makes it easy on the wallet when it's time to fill up and exceptional in resale value when it's time to sell.
The Toyota Camry Hybrid achieves up to 43 mpg thanks to the combination of a 4-cylinder gasoline engine and an electric motor. The way the car manages and distributes its 200 horsepower is complex, but driving and operating the vehicle isn't. With the 2015 Camry Hybrid sedan, you never have to worry about plugging in the car or running out of battery power and getting stranded.
Just like a conventional Camry, as long as there is gasoline in the fuel tank, the Camry Hybrid will happily take you on your way. And as with the rest of the Camry lineup, the hybrid model benefits from a 2015 model-year revamp that brings stylish new interior and exterior design, more safety features and improved driving manners.
It adds up to a family sedan that offers the best of all Camry features -- comfort, convenience, easy driving manners and newfound style -- in a package that makes attaining 40-plus mpg as simple as getting in and going on your way.
Get to know this car
Resale Value
at 36 months: 58.7%
at 60 months: 46.7%
Ratings & Reviews
Consumer Rating
8.8
Out of 10
Expert Rating
9.2
Out of 10
---

Whether it's the hybrid's 47 mpg or the reduced emissions of the natural-gas variant, these models are appealing alternatives in the impressive Honda Civic stable.
Resale Value
at 36 months: 52.0%
at 60 months: 42.0%
---

With plush accommodations, serene road manners and a 40 mpg rating, the Lexus ES 300h proves luxury and efficiency can go hand in hand.
Resale Value
at 36 months: 56.0%
at 60 months: 41.0%
---
Other Category Winners
---
Free Dealer Price Quote
Get the best price and be more prepared with your free, no-obligation price quote