2013 Best Resale Value Awards: High-End Luxury Car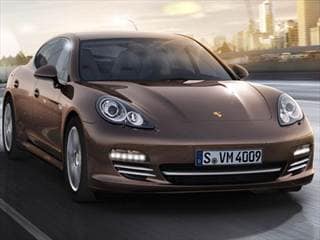 Much to the dismay of stubborn automotive purists, but to the delight of open-minded enthusiasts, the Porsche Panamera is, by all accounts, a sales success. As the brand's first 4-door sedan, the Panamera represents a bold new take on grand touring with its unmistakable shape and unadulterated performance potential. This super sedan's pleasing combination of impeccable craftsmanship, distinctive styling and well-bred refinement qualify it as this year's high-end luxury car winner of our 2013 Best Resale Value Award.
The Porsche Panamera accelerates and handles like...a Porsche. Its performance limitations rival those of full-blown sports cars, and with the simple push of a button the adjustable chassis and suspension control quickly transform the ride from sporty to supple. Even the base model delivers stirring performance with its 300-horsepower V6, while the more powerful turbo versions churn out an almost ridiculous amount of thrust.
Even with four doors, there is no confusing the Panamera for anything but a Porsche. The smoothly rounded sheet metal forms a unique silhouette, and despite the Panamera's aggressive stance and sloping roofline, occupants are treated to a remarkably spacious interior. In addition, the flashy yet functional fastback design offers near SUV-caliber utility.
The starting Manufacturer's Suggested Retail Price (MSRP) for the 2013 Porsche Panamera is right around $79,000, which is comparable to most full-size luxury sedans. High demand along with Porsche's envious reputation for engineering excellence have elevated resale values for the Panamera to class-leading levels.
---

Resale Value
at 36 months:

54.0%

at 60 months:

41.5%
Offered in either standard-or-long-wheelbase versions, the all-new Lexus LS460 continues to shine as a well-rounded performer in the elite class of large luxury sedans.
---

Resale Value
at 36 months:

53.0%

at 60 months:

37.0%
With four doors and a curvaceous, coupe-like profile, the Mercedes-Benz CLS-Class delivers loads of power, refinement and prestige to its four occupants.