2013 Best Resale Value Awards: Compact Car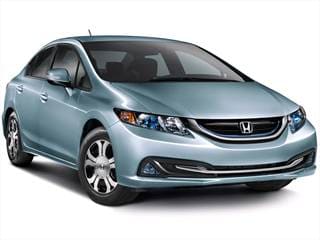 Reliability, fuel economy, great driving manners and low pricing have made the Honda Civic the benchmark of compact cars ever since it was introduced 40 years ago. As with past models, the 2013 Honda Civic retains those favorable attributes while also standing out for its ability to hold value, leading the pack in the compact car segment.
The 2013 Civic appeals to a broad range of buyers and has a correspondingly wide array of trims, from sedans and coupes to fuel-saving and emissions-curbing hybrid and natural-gas variants. Then there is the enthusiast's model, the Honda Civic Si, which kicks out a hearty 201 horsepower and itself reigns as the 2013 Best Resale Value Award winner in the sporty compact car segment. The Civic's long-running sales success and owner loyalty show just how far it has come since being introduced as a tiny hatchback in 1973.
As has been the case through the years, the Honda Civic's price remains a strong selling point, with a well-equipped 2013 model in the low $20,000 range. And as it has for the past four decades, the latest version of Honda's venerable compact is poised to charm its owners for years to come, all the while retaining top value for the dollar.
---

Resale Value
at 36 months:

60.0%

at 60 months:

46.5%
Roomy rear seats and features like a panoramic roof make the sporty Scion tC coupe more practical and better equipped than one would expect.
---

Resale Value
at 36 months:

64.9%

at 60 months:

44.6%
The only compact car available exclusively with all-wheel drive, the Subaru Impreza remains a stalwart in the more seasonally dynamic sections of the country.