2012 Best Resale Value Awards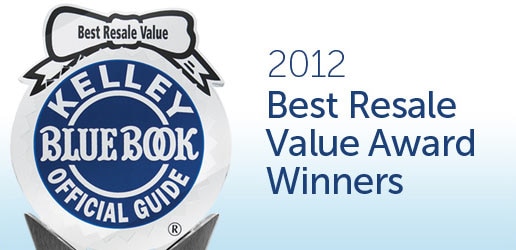 About the Best Resale Value Awards
When shoppers talk about how they go about choosing a new car, they often say they seek a vehicle with high resale value. While they might not know exactly how to gauge that, their thinking is spot-on. If you want to keep your overall year-in-year-out transportation costs low, you will find that a vehicle that retains its value well will be your best friend. Why? Because over the first five years of new-car ownership depreciation is a car owner's biggest expense. Depreciation - in basic terms, the amount a vehicle declines in value over time - can cost you thousands of dollars during the years you own your car. Because of that, choosing a vehicle that retains its value better than others - in other words, a vehicle with better resale value - will leave you money ahead at trade-in time.
So how do you find the cars, trucks, sport utilities and vans that have the best resale value? The simple answer is here at Kelley Blue Book's kbb.com. We at Kelley Blue Book have been publishing our Official Residual Value Guide since 1981, so we are industry-acknowledged experts in the art and science of resale value projections. Financial institutions, governmental agencies and the automotive leasing industry rely on the comprehensive residual values we provide. To help guide consumers on this important but little-understood facet of the automotive purchase process, Kelley Blue Book established its annual Best Resale Value Awards in 2003.
The Kelley Blue Book Best Resale Value Awards recognize automakers' outstanding achievements in producing vehicles that best retain their value over the first five years (60 months) of new-vehicle ownership. Awards are presented to top vehicles in 19 vehicle categories and to the Overall Top 10 vehicles across all categories. In addition, the luxury and non-luxury brands that demonstrate the best across-the-board value retention receive coveted Best Brand and Best Luxury Brand awards. Kelley Blue Book resale value projections are based on current vehicle data, sales data, market conditions for each vehicle, competition within vehicle segments, expectations of the future economy and the combined experience of Kelley Blue Book's team of market and pricing analysts. It's not something you want to try at home. "The Best Resale Value Awards combine the expertise of Kelley Blue Book's market analysis with our proud history of trusted accuracy in reporting vehicle values," said Paul Johnson, president and publisher of Kelley Blue Book. "We hope that this information assists new-vehicle shoppers in making more informed financial decisions."
The awards are broken into three groups, as listed below.
Some brands have a reputation for high resale value. Some brands have high resale value because they have a reputation for high resale value. While this seems like faulty logic, quite the contrary is true. Residual value projections are based on, among other things, consumers' perceptions of long-term vehicle value, so consumers' feelings about residual value are a key component of strong residual value. But to win the Best Brand and Best Luxury Brand awards, auto manufacturers must not only maintain the reputation of their brands, but also offer great vehicles across their entire model lines and keep production well-matched to demand. If you buy a vehicle from a brand honored by Kelley Blue Book with a Best Resale Value award you can be confident it will retain its value well.
You might consider the Overall Top 10 Award winners to be the equivalent of the teams that make the playoffs in baseball or football. Some are the award winners in their specific vehicle categories - minivan or luxury car or wagon, for instance - but others, though they have excellent resale value projections, are not category winners, yet their high-ranking performance begs to be recognized. You might look at these award-winners as the "wild-card" models, and they deserve to be part of the overall Top 10 because their residual-value performance is among the best 10 of all models in the industry - a playoff-worthy achievement.
It is not helpful to learn that several individual luxury cars have high resale value projections if you're about to buy a full-size pickup truck. What you want to know is which full-size pickup offers the best residual value projection. That is what the category awards are about. They honor the models that offer the best retained value in each of 19 vehicle categories. From compact car, to luxury utility vehicle, to van and beyond, the Kelley Blue Book Best Resale Value category award winners will give you a look at the elite vehicles in retaining value over time.
And now let's move on to the Best Resale Value Award winners for 2012, starting with the two prestigious Best Brand awards.