2019 5-Year Cost to Own Awards: Best Sports Car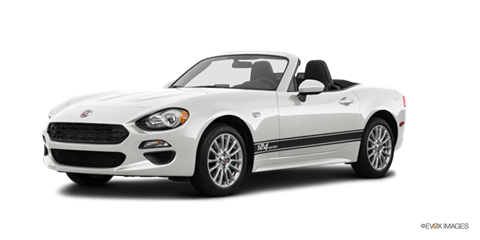 Although resale values for the Fiat brand historically skew lower than average, the Fiat 124 Spider, based on the Mazda MX-5 Miata, has taken the title of Best Sports Car in KBB's 2019 5-Year Cost to Own ratings. It's an impressive if somewhat surprising performance for this fun little 2-seat roadster, which is distinctively styled and has a turbocharged 1.4-liter engine making an eager 160 horsepower.
From our Expert Review: "While it is true the Fiat 124 Spider adds an additional 100 pounds over its Miata twin, there is no great detriment to the car's overall handling prowess. Precise steering requiring only the slightest input gives the driver a feeling of total control and confidence, growing more playful as speeds climb and asphalt twists." Continues our review: "Top-down driving is a joy in this car, with minimal wind buffeting and an excellent sound system. With the top in place, the interior is surprisingly quiet, enough to make Bluetooth conversations as easy as in the average compact car."
With its Japanese reliability (the 124 is built in Hiroshima), Italian style and entertaining driving manners (best enjoyed in the Abarth model with its sport suspension and limited-slip differential), the rear-wheel-drive (RWD) Fiat 124 Spider reminds us of why driving is fun, and we appreciate how its thicker side glass, acoustic windshield and additional sound-deadening materials make for a quieter, more refined overall experience.
With this great everyday performance backed by KBB data proving the 124's class-leading low cost of ownership, this Fiat, which starts at $24,995, is a winner in several senses of the word.
---

5-Year Cost to Own:
$38,599
as of January 1, 2019
With an MSRP of just over $26,000 and low ownership costs, the 2019
Subaru BRZ
comes close to dethroning the Fiat in our cost to own ratings.
---

5-Year Cost to Own:
$39,718
as of January 1, 2019
The 2019
Toyota 86
is a mechanical twin of the BRZ, with a slightly higher MSRP; no surprise, it also has an impressive 5-Year Cost to Own rating.
---
Other Category Winners