2019 5-Year Cost to Own Awards: Best Luxury Mid-Size SUV/Crossover (3-Row)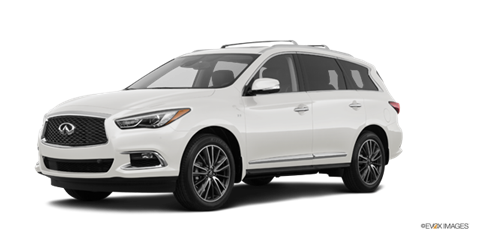 In the 3-row Luxury Midsize SUV/crossover category, the more things change, the more they stay the same as the 2019 Infiniti QX60 keeps up its streak as a winner in providing the lowest 5-Year Cost to Own figure. The QX60 is stylish, comfortable and, as an added bonus, has one of the most user-friendly third row seats in the segment.
While little has changed on the vehicle itself, it still stands out for its 295-horsepower V6 that makes 270 lb-ft of torque. This V6 engine ensures that the QX60 feels light on its feet thanks to good acceleration and the direct and well-weighted power steering.
Beyond performance, the QX60 deliveries plenty of amenities, from leather upholstery and ample soft touch surfaces to a 360-degree around-view camera that makes parking lot maneuvering a breeze. The 2019 QX60 also features a wide array of driver assists including blind spot monitoring, lane-keeping assist, and collision avoidance with automatic braking. Features like a motion-activated rear liftgate and easy folding and sliding second-row seat that allows access to the cargo area and spacious third row.
As a carryover vehicle, Infiniti has held the line on price increases, which also helps keep a lid on big increases in the cost of ownership. Prices start at $44,995 for the new Pure entry-level model with front-drive and $46,795 for the Luxe trim.
---

5-Year Cost to Own:
$55,201
as of January 1, 2019
The Buick Enclave offers 3-row comfort that's further enhanced by its patented Quiet Tuning approach to sound insulation. This premium feel contributes to enhanced resale enabling a low 5-Year Cost to Own score.
---

5-Year Cost to Own:
$55,636
as of January 1, 2019
Volvo has added to its reputation for safety with new calling cards that emphasize luxury and technology. The Volvo XC90 embodies all these advancements while providing competitive ownership costs.
---
Other Category Winners
Best Luxury Mid-Size SUV/Crossover (3-Row)