2019 5-Year Cost to Own Awards: Best Luxury Mid-Size SUV/Crossover (2-Row)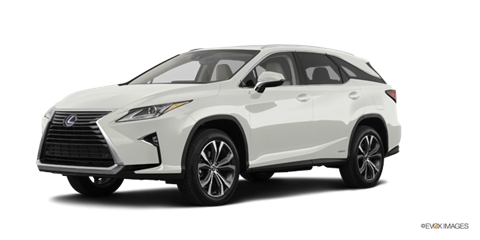 Recognizing the continued change in the midsize SUV/crossover segment, Kelley Blue Book has broken this category out into 2- and 3-row categories. While the 2019 Lexus RX now has a 3-row version with its L trim level, the preponderance of sales are still 2-row models. Arguably, it's a category that Lexus created with the RX. It continues to offer the traditional high resale value that is enjoyed by nearly all Lexus products, which in turn results in a lower overall cost to own after 5 years when it comes time to sell or trade the vehicle in.
Lexus has also bet on edgier styling in a bid to attract younger buyers. That move has paid off as the RX combines a striking exterior with an interior that delivers high levels of luxury amenities in a cabin that's whisper quiet. Lexus has also prided itself on build quality and that is clearly seen in the tight seams and fits on both the interior and exterior.
The 2019 Lexus RX continues to be offered in two models. The RX 350, with its 3.5-liter V6 making 295 horsepower and 267 lb-ft of torque, delivers output through an 8-speed automatic to either the front wheels or to all four corners with optional AWD. The RX 350h hybrid uses the same engine rated at 259 horsepower, but when connected to a 123-kW electric motor, makes for total system output of 308 horsepower and 247 lb-ft of torque. It delivers 31 mpg city and 28 mpg highway through all-wheel drive.
Starting at $44,595, the 2019 Lexus RX offers solid performance, attractive looks and above all, quality, reliability and exceptional resale value to deliver the segment's lowest 5-Year Cost-to-Own.
---

5-Year Cost to Own:
$52,693
as of January 1, 2019
A new name along with a freshened exterior and revamped cabin make the Lincoln Nautilus a much better MKX.
---

5-Year Cost to Own:
$61,329
as of January 1, 2019
The Cadillac XT5 has a crisp exterior design and an upscale interior that contribute to an expected higher resale value.
---
Other Category Winners
Best Luxury Mid-Size SUV/Crossover (2-Row)