2018 5-Year Cost to Own Awards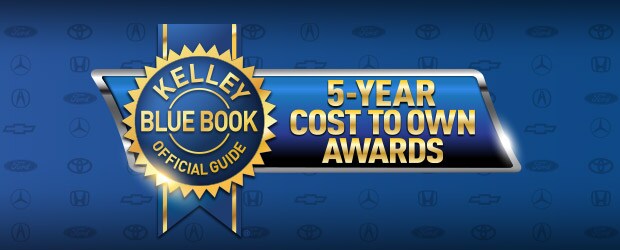 About the 5-Year Cost to Own Awards
When considering the cost of a car, all too often buyers focus on the sticker price and how to negotiate that number to fit their budget. That upfront price certainly plays a key role in choosing the right car for you, and for decades Kelley Blue Book has enabled smart car-buying decisions by providing crucial pricing information. But the money it takes to own a car goes far beyond a vehicle's purchase price, and the financial impact - for better or worse - will last years after you've driven it off the lot.
When you add up costs such as fuel, financing, insurance and one of the biggest factors of all - depreciation - vehicles with similar sticker prices when new can vary widely in total ownership costs just a few years down the road. It's the reason why a car with a lower sticker price isn't always cheaper in the long-run, while a car that initially costs more can actually save you thousands in comparison.
That's why Kelley Blue Book goes beyond just helping you determine a fair price to pay when buying a car. We enable you to keep the big picture in mind, and vital to doing that is our annual 5-Year Cost to Own Awards.
For a car's 5-Year Cost to Own projection, our number-loving experts calculate financing, insurance and state fees, plus the estimated costs of fuel, maintenance and repairs. Also tallied are the major factors of purchase price -- the exclusive Kelley Blue Book Fair Purchase Price -- and projected depreciation, derived from our benchmark residual-value analysis.
For the 5-Year Cost to Own data used to determine these awards, we evaluate expected ownership costs down to the model level, using new-car sales figures. Popular trims are more heavily weighted to accurately reflect what buyers can expect in terms of cost of ownership.
By arming yourself with the expertise and insight from our 5-Year Cost to Own Awards, you can be confident that your next new-car purchase will be a smart choice both now and in the years ahead.
Our annual 5-Year Cost to Own Awards are broken into the two groups listed below.
In addition to honoring 5-Year Cost to Own standouts at the model level, we also hand out Best Brand and Best Luxury Brand awards to the automakers with outstanding ownership costs across their lineups.
Whether you're shopping for a full-size truck, a compact hatchback, high-performance sports car or even an electric vehicle, we pick  5-Year Cost to Own winners in each of 22 vehicle categories. Also honored are two runners-up in each category, either of which may be a personal winner for you depending on your wants and needs.
And with that, let's meet the 5-Year Cost to Own Award champions of 2018, starting with the two Best Brand awards.