2017 5-Year Cost to Own Awards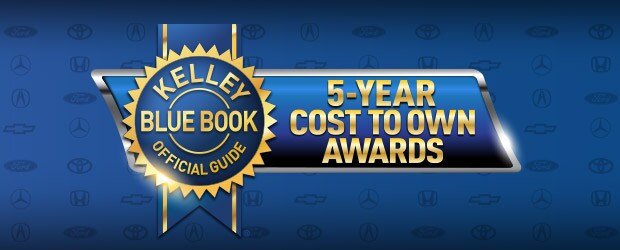 About the 5-Year Cost to Own Awards
Everyone knows that negotiating a good price on a new car can save you hundreds or even thousands of dollars, and that's what Kelley Blue Book has been helping car buyers do for decades. But fewer car shoppers realize they can save even more simply by choosing the right car to begin with. Purchase price is just one of the costs associated with vehicle ownership, and when you consider the continuing costs of fuel, financing, insurance and, in particular, depreciation, saving a few bucks up front can actually cost you more when all is said and done. Similar cars with similar sticker prices can vary widely in overall outlay, and the wrong car can easily eat up all the savings you fought so hard to achieve at the negotiating table.
So instead of just helping buyers figure out fair prices, we also help them compare overall costs. A great place to start your quest for financially superior transportation is our annual 5-Year Cost to Own Awards, which identify the vehicles that are the least expensive to own in their individual categories.
Included among the factors are financing, insurance and state fees, plus the anticipated costs of fuel, scheduled maintenance and repairs. Also included are the critical factors of purchase price -- the exclusive Kelley Blue Book Fair Purchase Price -- and projected depreciation, derived from our industry-standard residual-value analysis.
In creating the 5-Year Cost to Own projections for our awards, we calculate expected ownership costs down to the model level, using actual new-car sales figures. We weight more popular trim levels more heavily, to more accurately convey what consumers can expect to experience in terms of cost of ownership over time.
Whether you use our 5-Year Cost to Own Awards as your starting point or as a way to help you decide among similarly appealing models, you'll feel good knowing you've made a smart choice that holds up in the big picture.
Our annual 5-Year Cost to Own Awards are broken into the two groups listed below.
In addition to recognizing 5-Year Cost to Own standouts at the model level, we also hand out Best Brand and Best Luxury Brand awards to the automakers with outstanding ownership costs across their entire lineups.
In order to make our annual list useful to as many car shoppers as possible, we crown 5-Year Cost to Own champions in each of 21 vehicle categories. We also identify two runners-up in each category, either of which may be an even better buy according to your wants and needs.
And with that, let's meet the 5-Year Cost to Own Award champions of 2017, starting with the two Best Brand awards.