2016 5-Year Cost to Own Awards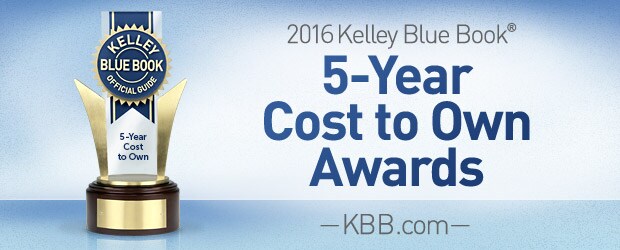 About the 5-Year Cost to Own Awards
The U.S. economy is purported to be strong and getting stronger, but you will have a hard time convincing many Americans that is the case when they look at their monthly budgets. Yes, fuel prices are down, but many consumers have seen their paychecks flatten out, dip or even disappear as companies downsize, trim hours and move staff from full-time to part-time. Even those whose wages are rising and jobs seem secure have seen their savings and investments take a severe hit lately as the stock market took a roller coaster ride down. So how does one keep financially swimming against a steady tide of challenges?
One way is to make certain your transportation costs are as low as they can be. If you need a new car you can start to limit your transportation costs by negotiating a good price on that purchase, and we at Kelley Blue Book are here to help you do that. But getting a good price on a new-car purchase is only one puzzle piece in the overall solution to high transportation costs. Purchasing a vehicle that promises a low overall cost of ownership is as least as important as the new-car deal in achieving the goal. And though it might not seem like it in the moment, negotiating a favorable purchase price is typically easier than figuring out which car will have the best cost of ownership. The combined costs of fuel, financing, insurance and depreciation are well beyond most individuals' ability to research and determine. Because of that - and because we believe it is our mission - we at Kelley Blue Book go to extreme lengths to do that for you.
Every model year we calculate the amount it would cost to own each individual model on sale in the United States to the trim level over a typical 5-year-long ownership period. That is a gargantuan task, but our data analysts do it willingly because the information can be so helpful to you. As you'd expect from Kelley Blue Book, our analysis considers every key criterion that figures into the overall cost to obtain and operate a motor vehicle. Included among the factors are financing, insurance and state fees plus the anticipated costs of fuel, scheduled maintenance and repairs. Also included are the critical factors of purchase price - the exclusive Kelley Blue Book Fair Purchase Price - and projected depreciation, derived from our industry-standard residual-value analysis. You won't have to do analysis of thousands of vehicle variations, looking at various data points to figure out the cost to own of each potential model you might choose, because we have done that for you.
The work our analysts do on 5-Year Cost to Own for each car also enables us to determine the vehicles with the lowest cost-to-own projections. Since achieving this is a point of honor for the manufacturers we decided to reward this exceptional performance with awards that have the additional purpose of readily identifying to car buyers vehicles that will be the least expensive to operate. With some degree of obviousness we call these the Kelley Blue Book 5-Year Cost to Own Awards.
In creating our 5-Year Cost to Own projections for our awards, Kelley Blue Book averages ownership cost projections to the model level, using actual new-car sales figures at the specific trim level to guide the averaging. This technique gives appropriate weight to popular versions of each model, making the KBB.com 5-Year Cost to Own Awards insightful reflections of what consumers can expect to experience in terms of cost of ownership over time. If you choose a 5-Year Cost to Own Award winner as your personal vehicle you can be confident that your costs for transportation will be among the lowest for vehicles of that type over the next half decade.
Our annual 5-Year Cost to Own Awards are broken into two groups, as listed below.
While our 5-Year Cost-to-Own awards recognize standouts at the model level, we also use the model and trim level analysis to identify the Best Brand and Best Luxury Brand that offer outstanding ownership costs across their entire lineups.
Our annual list features something for everyone, with 5-Year Cost to Own champions crowned in each of 22 vehicle categories. We also identify two runners-up in each category, and often these vehicles deliver value very close to that of the award winners.
And with that, let's meet the 5-Year Cost to Own Award champions of 2016, starting with the two Best Brand awards.