2014 5-Year Cost to Own Awards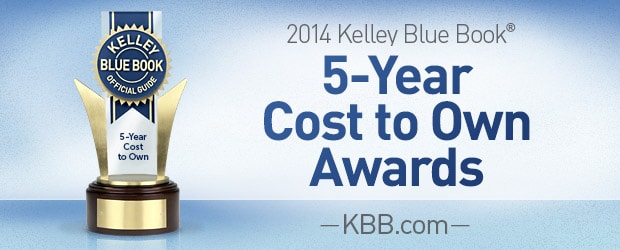 About the 5-Year Cost to Own Awards
Negotiating a good price on a new-car purchase is an important aspect of keeping your overall costs of transportation down. And we at Kelley Blue Book offer you unprecedented help in achieving that worthwhile goal. But if you negotiate a good purchase price on a vehicle that is burdened with high ownership costs, much of your effort could go to waste. The combined costs of fuel, financing, insurance and, in particular, depreciation could well eat up all the savings you fought so hard to achieve at the negotiating table.
So how do you avoid this potential pitfall? How do you save yourself from choosing a vehicle with cost-to-own figures that will make you wish you'd chosen something else? Happily you don't have to do analysis of thousands of vehicle variations, nor do you have to be a doctoral candidate in advanced economics. All you have to do is pay heed to our annual 5-Year Cost to Own Awards, which identify the 2014 model-year vehicles that are the least expensive to own in their individual categories.
The awards are based on our industry-leading analysis of the 5-year ownership costs of virtually all 2014 model-year vehicles available for sale in the United States. In turn the analysis considers every key criterion that figures into the overall cost to obtain and operate a motor vehicle over a five-year period. Included among the factors are financing costs, insurance costs and state fees plus the anticipated costs of fuel, scheduled maintenance and repairs. Also included are the critical factors of purchase price - in our analysis the exclusive Kelley Blue Book Fair Purchase Price - and projected depreciation, derived from our Kelley Blue Book residual-value analysis.
To provide you with information that is pertinent to your individual needs, we calculate KBB.com's 5-Year Cost to Own projections at a make/model/trim level (e.g. 2014 Ford Explorer XLT 4WD) to enable you to examine total cost down to specific trim levels. To obtain make-model level 5-Year Cost to Own projections, Kelley Blue Book averages ownership cost projections to the model level, using actual new-car sales figures at the more specific trim level to guide the averaging. This technique gives appropriate weight to popular versions of each model. For example, it gives more weight to a Honda Civic LX Automatic, while lowering the weight of less popular trims like the sporty Honda Civic Si. By using this technique the KBB.com 5-Year Cost to Own Awards are insightful reflections of what consumers are expected to experience in the ownership of various models.
The bottom line: if you pay attention to our 5-Year Cost to Own Award winners, you can ensure that you won't pay too much for owning and operating a vehicle that is right for you.
Our annual 5-Year Cost to Own Awards are broken into two groups, as listed below.
In addition to recognizing 5-Year Cost to Own standouts at the model level, we also hand out Best Brand and Best Luxury Brand awards to the automakers with outstanding ownership costs across their entire lineups.
With a 5-Year Cost to Own champion named in each of 22 distinct vehicle categories, our annual list includes high-value standouts for just about every car shopper. We also identify a couple runners-up in each category, for an even wider variety of value.
And with that, let's meet the 5-Year Cost to Own Award champions of 2014, starting with the two Best Brand awards.