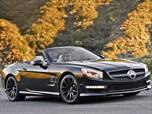 The new-for-2015 Mercedes-Benz SL400 adds a twin-turbocharged V6 to the SL-Class mix, along with a significantly reduced base price. On the other end of the spectrum, the SL65 AMG gets a new 7-speed automatic transmission to go with its 621-horsepower twin-turbo V12 engine.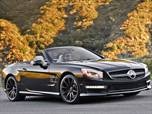 With the Mercedes-Benz SL-Class being all-new last year, it carries over unchanged for the 2014 model year.
About Mercedes-Benz SL-Class
Driving a Mercedes-Benz SL-Class doesn't just mean you've made it. It means you want the world to know you've made it. As classic a status symbol as a Rolex watch or Fendi bag, Mercedes-Benz nonetheless lowers the bar for this kind of symbolism with the introduction of the SL400 for the 2015 model year. With a twin-turbo V6 engine, it gives up very little in performance compared to its V8 siblings, but costs more than $20,000 less. However, when even the "cheap" one is still nearly $85,000 to start, you're in rarefied air. Other cars like the Jaguar XK, Porsche 911 and BMW 6 Series all offer performance, panache and luxury for similar prices, yet none can match the prestige of this classic Mercedes-Benz.