After a major update last year, the 2016 Mercedes-Benz GL rolls into the new year with only minor changes. Cinnabar Red metallic paint is axed from the color palette, and five years of mbrace services is now standard.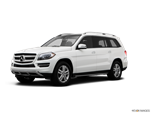 The Mercedes-Benz GL-Class sees some big changes for 2015, starting under the hood. The GL450 4Matic receives a new biturbo V6 engine with the same horsepower as the outgoing V8, but with better fuel economy. Stop/start technology is added to all trims except the GL350 BlueTEC 4Matic, and some special order items return to the regular options list.
About Mercedes-Benz GL-Class
The 2016 GL-Class by Mercedes-Benz is the company's flagship luxury SUV. As such, it must demonstrate more that just an ability to please the eye and soothe the senses. Luxury SUVs still have to perform like their commoner cousins, and here the GL does not disappoint. Offering a variety of engine options, the GL is never short on power. Whether you choose the twin-turbocharged V8 in the GL550 or the torque-happy diesel in the GL350 BlueTEC, you'll find more than enough power for passing, towing and thrilling the heck out of unsuspecting passengers. The GL's impeccable build quality, safety ratings and resale are also part of the big Benz's story, as is the look of success this SUV imparts on the person behind the wheel.