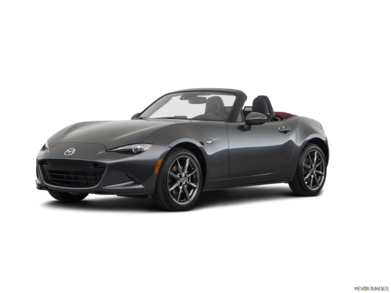 Combined Fuel Economy
29 MPG
Pros
You'll like the 2018 Mazda Miata because it's cute, affordable and fun and you believe the journey is just as important as the destination. You buy this little sports car because you want it, not because you need it, and you'll enjoy every minute you spend behind its leather-wrapped steering wheel.
Cons
For some the 2018 Miata is just too small and its 155 horsepower doesn't pack enough of a punch. That's why the world has Ford Mustangs and Chevy Camaros, two larger performance cars with back seats and optional V8s with gazillions of horsepower. The Subaru BRZ and Toyota 86 twins split the difference with tiny back seats and 205 horsepower.
What's New For 2018
For 2018, the Mazda Miata Soft Top's available Brembo/BBS Recaro package now adds heated Recaro sport seats in addition to the Brembo brakes and BBS wheels. Also, buyers can choose between a black top or a new Dark Cherry soft top, and the Mazda Connect infotainment system is now standard on the base Sport model. The Miata RF Club gets standard heated seats, and the RF models with manual transmissions get standard keyless entry.
Read less
2018 MAZDA MX-5 Miata Pricing
Get Kelley Blue Book® Pricing
See how style, options and other factors can impact pricing in your area.
2018 MAZDA MX-5 Miata Expert Review
The world's best-selling sports car, the 2018 Mazda MX-5 is an affordable, rear-wheel-drive 2-seater that's pure joy to drive. Available as a roadster or a coupe with a retractable roof panel, the new Mazda MX-5 in now in its fourth generation and competes with the Fiat 124, Toyota 86, Subaru BRZ and the V6-powered Nissan 370Z. Small, light and often referred to as the Mazda Miata, the MX-5 is nimble, quick and always ready for a drive up the coast or a blast on your favorite mountain road. Top down, of course. Prices start around $26,000 for the Miata Soft Top and around $32,500 for the MX-5 RF, which stands for Retractable Fastback. Both come standard with one of the best 6-speed manual transmissions in the business, but an automatic is available.
Driving the 2018 MAZDA MX-5 Miata
It's best to get out on the road early, after the sun breaks the horizon, but before the throngs of SUVs create the inevitable clog and clutter. Put the top down. Feel that sun on your face and the warm breeze on nape of your neck. The Mazda MX-5 Miata has never been about gobs of power that enable it to drag-race. This Mazda's magic lies not in straight lines, but when the road twists and turns. That's when this rear-wheel-drive 2-seater is at its best, or when simply cruising along a coastal highway. The Mazda's 155 horsepower doesn't sound like much, but the 2.0-liter engine loves to rev and its output is more than enough in this lightweight little roadster. Wring its neck and zip through the gears of the Miata's tight 6-speed manual transmission and it will hit 60 mph in about six seconds. The steering is quick, with plenty of feel, and the roadster's suspension offers plenty of cornering grip while maintaining a civilized ride.
Favorite Features
ADAPTIVE FRONT LIGHTING SYSTEM
This available system actually turns the sports car's headlights as you turn the steering wheel, helping you see better around turns at night. The Miata's headlights pivot as much as 15 degrees, which doesn't sound like much, but it makes all the difference when you're attacking a dark twisty road.

REAR CROSS-TRAFFIC ALERT
Small roadsters like the 2018 Mazda Miata don't have great rear visibility when the top is up. Backing out of a parking space can be treacherous, so we recommend the Miata's available cross-traffic alert system, which warns you audibly and visually if a vehicle or pedestrian is approaching from either side.

2018 MAZDA MX-5 Miata Interior
The 2018 Mazda MX-5 roadster has a simple, straightforward and modern interior. It's similar to the Mazda3 sedan and hatchback, with an upright infotainment screen on the dash, a push-button start button, and a surprising amount of soft-touch materials. Mazda says it literally designed the car around the driver, and the MX-5 offers excellent steering-wheel, pedal and shifter placement, though we wish the steering wheel telescoped in addition to tilting. Despite the small size, it's surprisingly accommodating for tall drivers, offering good headroom. There's even a usefully sized trunk, but as with the previous-gen model, interior space is at a premium.
2018 MAZDA MX-5 Miata Exterior
After three generations of much of the same, Mazda's designers had a little bit more fun with the styling of this latest 2018 MX-5 Miata. The profile keeps the classic long-hood/short-deck proportions, but the intricate surfacing of the panels is far more modern, and its flared wheelwells, squinted LED headlights and wide-mouth grille give it some attitude. Not too much. It's still kinda cute and at only 154 inches long it remains quite small. With its top in place, the MX-5 RF is a sleek coupe, but don't let those windows in the RF's B-pillar fool you; they're fakes. And with the power-operated center panel tucked away, it looks like nothing else new on the road outside of a Porsche 911 Targa.
2018 MAZDA MX-5 Miata Standard Features
The 2018 Mazda Miata lineup is divided into three different models for the standard convertible -- Sport, Club and Grand Touring -- while the new MX-5 RF retractable fastback is divided into two -- Club and Grand Touring. All Miata convertibles come with LED headlights, push-button ignition, air conditioning, power windows and the world's easiest-to-use folding cloth top. It's manual, but you can raise or lower it from the driver's seat. Also standard is a 6-speed manual transmission. The 6-speaker AM/FM/CD audio system includes Bluetooth and a USB input. Cruise control is also standard, and the little steering wheel is packed with audio and cruise-control buttons. This year the Mazda Connect infotainment system has been made standard on the base Sport model.
2018 MAZDA MX-5 Miata Options
While even a base 2018 Mazda Miata is a hoot, we recommend stepping up to the Club trim, which nets extra amenities and safety features, including blind-spot monitoring with rear cross-traffic alert and a Bose premium audio system with HD Radio and a secondary USB audio input. Manual-transmission versions come with a sport-tuned suspension with Bilstein shocks and limited-slip differential. Grand Touring models get leather upholstery, navigation, rain-sensing windshield wipers, heated seats, and lane-departure warning. A 6-speed automatic transmission is optional on all versions. Club models can be equipped with higher-performance Brembo brakes, BBS wheels and leather Recaro seats for an additional $3,400.
2018 MAZDA MX-5 Miata Engine
The sole engine in the new 2018 Mazda MX-5 is a 2.0-liter 4-cylinder with 155 horsepower. It comes standard with a slick 6-speed manual transmission, and even if you don't know how to drive stick, it's worth learning just so you can enjoy this one. The action is light, the shifts are short, and the clutch operation is simply spot-on. If you must, a 6-speed automatic is available; unfortunately, it adds a notable amount of weight, and despite the manual-shift mode, we still think it's worth getting the manual. Either way, you'll fill this sports car with premium unleaded, but with up to 35 mpg on the highway, you won't do it often.

2.0-liter inline-4
155 horsepower @ 6,000 rpm
148 lb-ft of torque @ 4,600 rpm
EPA city/highway fuel economy: 26/33 mpg (manual), 26/35 mpg (automatic)
How Much Does the 2018 MAZDA MX-5 Miata Cost?
Yes, you can put a price on fun, and we're happy to report it's within reach. A base 2018 Mazda MX-5 Miata convertible has a Manufacturer's Suggested Retail Price (MSRP) of about $26,000 including an $875 destination fee for a manual-transmission Sport model. Mid-trim Club versions start higher at about $29,500, while the Grand Touring model begins around $31,000. The new Mazda MX-5 RF starts just over $32,000, while a Grand Touring RF goes for around $33,500. An automatic transmission adds roughly $700 to $1,500, depending on model. The MX-5's closest rival, the MX-5-based Fiat 124 Spider, has more classical looks and a 1.4-liter turbocharged engine. The Fiat starts just slightly higher at about $26,000. Though somewhat apples and oranges, a Mini Convertible starts at about $27,000, while a Toyota 86 coupe begins just over $27,000. Before buying, check the KBB.com Fair Purchase Price to see what others are paying. The MX-5's resale value is expected to hold up well.
Read less
2018 MAZDA MX-5 Miata Consumer Reviews
---
Starryone
07/01/2019
2019 MAZDA MX-5 Miata RF
"Best car I've ever owned!"
It could be to small for some people to sit in.
Every time I get in my MX-5 it's like sitting in my own little world. It a lot of fun to drive. And beautiful inside and out. It's a work of art.
---
Dano
06/27/2019
2018 MAZDA MX-5 Miata
"Miata # 4....and the best one yet!"
The most fun car you can own!
The gov't should mandate that everyone own one!
This is my 4th Miata. My 1st was an '01 BRG/Nardi SE, then an '08 GT PRHT, a '17 GT and now this '18 GT. I also owned 4 different Honda S2000s the years I didn't have a Miata in the garage. The '18 Miata is the best sports car I've owned. The '17 was just as good but we stumbled on an '18 in Snowflake Pearl with the cherry convertible top and had to have it. It was an impulse buy. Mazda has perfected the essence of "fun to drive" in the ND Miata! Years from now when most cars will be completely autonomous and the joy of "just driving" has bee
n completely removed from the public's conscientiousness you may find yourself walking past an old man on a park bench, too old and senile to be behind the wheel of a car. That old man will have a smile on his face and a twinkle in his eye as he grips an imaginary steering wheel. Your eyes meet his and you stop in your tracks as he whispers something you can't quite make out. You lean closer to better hear what he's whispering...and then suddenly it's clear...you hear him say ZOOM ZOOM! That old man will be me...so smile back at me...and in the words of John Prine say "hello in there"...and then go to a museum and sit behind the wheel of a vintage Miata.
Read less
---
Colonel
05/21/2019
2019 MAZDA MX-5 Miata
"Fun Fun Fun Since Daddy Took the T Bird Away"
Speed, styling and ease of operation and RF quiet
Limited passenger leg room makes it a driver's car
After years in the retail "Motor Trade" with Porsche, BMW, Acura, Toyota and Lexus, I have been privileged to drive and sell/lease them all. Back in the day car dealers provided sales staff with demonstrators. The Porsche 911 was my favorite, but expensive to service, and tricky on wet roads. Most clients were doctors, lawyers and Indian Chiefs who owned casinos. In '94 I leased a Mercury Capri XR2, upgraded the wheels and tires and drove the hades out of it. It had a turbo Miata engine comparable in fun to cars twice the price. I would have si
gned up for another but it was discontinued. Last August I drove the '19 RF and fell in love again. It has the punch of a turbo without turbo lag. I love this car! The stylish lines turn heads and it drives like an expensive German machine twice the price. 5 Stars!
Read less
---
M2Scuba_Nurse
02/11/2019
2019 MAZDA MX-5 Miata RF
Styling is unmatched! Responsive! Bang for buck!
awkward drink holders/very little passenge legroom
Went from my Volvo SUV to this little tiny fun machine. I'm 5'2" & it works for me - even as a daily driver. Size would be a problem for anyone over 5'10" -ish. It's beautiful. It's fun. And it's affordable. I got the 2019 country loaded RF in machine gray. I could not be happier. It's just what this newly empty nester needed to pep me up!
---
Thrill to drive
11/03/2018
2017 Mazda MX-5 Miata RF
"Absolute thrill to drive"
Handling, style, retarctable roof, pure roadster
None yet. If I were big, probably would be fit.
I bought this car in January 2018 with some trepidation; do I really need? After almost a year of ownership, I can say without doubt, yes I do. The Miata MX-5 RF is nothing short of pure fun to drive. I have a 6 speed manual (highly recommend) the shifting is pure, and the shifter is located in a perfect ergo placement. The car handles impeccably. It goes exactly where you steer it, on a dime. And regardless how tight the turn, or how fast you take it, your body position remains unchanged, and all 4 tires remain hugging the road. Not sure how
Mazda managed to design and sell a car at such an affordable price, but I'm glad they did. On a sunny 70 degree day, retract the roof and get lost in the mountains, or anywhere. The smile will be pasted on your face.
Read less
---
2018 MAZDA MX-5 Miata Specs & Features
Based on lowest-priced style.
Technology
Bluetooth Wireless Technology

Cruise Control

Hands Free Phone

Remote Keyless Entry

Telematics / Communication Brand - MAZDA CONNECT

Telematics / Communication Systems

Audible Text Message Feature

Internet Access

Push-Button Engine Start

Smartphone Interface

USB Port

Voice Recognition System
Entertainment
AM/FM Radio

MP3 Player

Auxiliary Input Jack

Bluetooth Streaming Audio

CD Player

HD Radio
Comfort & Convenience
Front Air Conditioning

Power Locks

Remote Control Liftgate/Trunk Release
Fuel Economy
EPA City - 26 mpg

EPA Class - Two Seaters

EPA Hwy - 33 mpg

EPA Combined - 29 mpg
Performance
Horsepower - 155 hp

Horsepower RPM - 6000 rpm

Stroke - 3.59 inches

Torque - 148 foot pounds

Torque RPM - 4600 rpm
Interior
Cup Holder

Leather-Wrapped Steering Wheel

Power Windows

Rear Window Defroster

12V Power Outlet

Power Outlet

Steering Wheel Controls

Tilt Steering Wheel
Exterior
Alloy Wheels

Number of Doors - 2 doors

Power Mirrors

Tires / Wheel Size - P195/50R16

Wheel Type - Alloy

Tire Type - High Performance

LED Headlights

LED Tail Lights

Rear Spoiler - Port Installed
Warranty
Basic Miles - 36000 miles

Basic Years - 3 years

Powertrain Miles - 60000 miles

Powertrain Years - 5 years

Roadside Assistance Miles - 36000 miles

Roadside Assistance Years - 3 years
Mechanical
Alternator Amps - 100 amps

Axle Ratio - 2.87

Brakes: Front - Disc

Brakes: Rear - Disc

Braking System - Anti-Lock

Drivetrain - RWD

Engine Immobilizer

Engine Type - Gas

Power Steering

Tachometer

Transmission Type - Manual

Cylinders - 4 cylinders

Displacement - 2.0 liter

Bore - 3.29 inches

Compression Ratio - 13.0

Fuel Induction - Electronic Fuel Injection

Total no. valves - 16 valves

Valve Train - Dual Overhead Cam

Engine Configuration - Inline

Max Engine Speed - 6800 rpm

# of Speeds - 6 speed

CID - 122 cubic inches

Recommended Fuel - Premium

4-Wheel Disc Brakes

Anti-Lock Brakes
Dimensions, Weights & Capacities
Curb Weight - 2332 pounds

Fuel Capacity - 11.9 gallons

Head Room: Front - 37.4 inches

Height - 48.6 inches

Leg Room: Front - 43.1 inches

Max Seating Capacity - 2

Minimum Ground Clearance - 4.9 inches

Overall Length - 154.1 inches

Shoulder Room: Front - 52.2 inches

Standard Seating Capacity - 2 passenger

Towing Capacity, Maximum - Not Recommended

Trunk or Cargo Capacity - 4.6 cubic feet

Turning Diameter - 30.8 feet

Wheel Base - 90.9 inches

Width with mirrors - 68.3 inches

GVWR - 3078 pounds

Hip Room: Front - 52.0 inches
See less
2018 MAZDA MX-5 Miata Safety
Crash Test Rating
Safety information is currently not available for this vehicle.
Please check back in the future.
2018 MAZDA MX-5 Miata Safety Technology
Driver Airbag

Passenger Airbag

Stability Control

Traction Control

Front Side Airbag