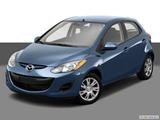 Driving Impressions No matter how you slice it, the 2014 Mazda2's 100 horsepower just isn't going to impress anyone concerned with speed and passing power. However, those who show patience will be...
... well rewarded by the Mazda2's go-kart-like handling and excellent 5-speed manual transmission. Weighing a mere 2,300 pounds has its advantages, and Mazda's suspension engineers have exploited every last one of them. Toss the Mazda2 into a curve, and the feeling is almost Miata-like, with immediate turn-in and a responsive suspension devoid of dramatic lean or dive. You can have fun with this car all day, that is until you come upon a slow-moving
truck
and need power to pass it quickly. Still, from its comfortable cabin to the compliant ride, the Mazda2 earns its "zoom-zoom" stripes with ease.