2018 Maserati GranTurismo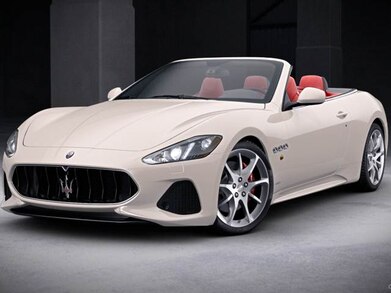 Combined Fuel Economy
15 MPG
Pros
Even among 6-figure luxury-performance cars, the 2018 Maserati GranTurismo coupe and convertible stand out for their Italian design, Ferrari-built engine and sheer exclusivity. Driving a Maserati grants immediate access to a privileged group.
Cons
Owning an exclusive car like the GranTurismo also means a scarcer selection of dealerships and service centers, the latter aspect something to keep in mind considering Maserati's less-than-certain reliability history. Brands like Porsche and BMW have more dealerships, and more choices among models and options.
What's New For 2018
For 2018, the Maserati GranTurismo and GT Convertible get a much-needed update to their infotainment system that includes Apple CarPlay and Android Auto integration. Also new are exterior and interior styling tweaks and options, such as a carbon-fiber hood in the sportier MC models.
Read less
2018 Maserati GranTurismo Pricing
Get Kelley Blue Book® Pricing
See how style, options and other factors can impact pricing in your area.
2018 Maserati GranTurismo Expert Review
The 2018 Maserati GranTurismo is the quintessential example of a sports car from the famed Italian luxury brand. Offered as a coupe or the open-air GT Convertible, the GranTurismo is a 2+2 grand touring car with the heart of a supercar. Beating under that elegant hood is a V8 made by Ferrari whose exhaust note could justify the GranTurismo's price of admission. Starting around $134,000, the GranTurismo is pricier and more technologically outdated than more mainstream luxury-sports cars like the Porsche 911, Mercedes-AMG GT and new BMW 8 Series, but significantly below exotics from Aston Martin and Bentley. Beyond that enviable powertrain, the GranTurismo boasts luscious looks, athletic yet graceful driving manners, and some modest practicality. Most of all, you get to brag that you drive a Maserati.
Driving the 2018 Maserati GranTurismo
The 2018 Maserati GranTurismo really is a delight for the senses, if you appreciate it for what it is. In truth, with a 0-60-mph time of 4.7 to 5.0 seconds depending on model, it's not as fast as even a base Porsche 911, nor will it carve corners like that benchmark performer. Another German, the all-new BMW 8 grand touring coupe and its 3.6-second 0-60-mph time will trounce the Maserati. But that's not really the point. If you need to win every stoplight race, shop elsewhere and keep your pride intact. The name of the Maserati's game is passion. Just listen to the wail of that Ferrari-built V8 engine. You won't hear that in a Porsche or BMW. Nor will you get the scent of the GranTurismo's Italian leather. It's sensual, remember?

An older-style 6-speed automatic transmission is the only offering in this Maserati, but it's smooth and works well for this Italian luxury car's purpose. So does its Skyhook suspension. In Normal drive mode, it snuffs road imperfections for your coastal loafs. In Sport mode, the setup becomes more aggressive. The GranTurismo is becoming a rarity in its use of an older, hydraulic steering system. While they are less efficient, these setups are still favored by purists for their direct feel. The Maserati's race-bred Brembo brakes enable confident stopping. Perhaps most important, the GranTurismo always seems to maintain a sense of grace, polish and refinement.
Favorite Features
UPDATED INFOTAINMENT SYSTEM
The Maserati GranTurismo got a much-needed tech injection for 2018: Apple CarPlay and Android Auto. These systems seamlessly integrate with your smartphone, replicating core apps such as messaging, music and phone functions onto the Maserati's 8.4-inch touch screen.

THE SPORT BUTTON
From the looks of it the 2018 Maserati GranTurismo should be sporty enough, but with a press of the Sport button you open up the exhaust, quicken the shifts and sharpen the Skyhook adjustable suspension for a firmer ride and sharper handling.

2018 Maserati GranTurismo Interior
Whether you opt for the coupe or convertible, the 2018 GranTurismo has a 4-passenger cabin that is festooned with supple leather and polished wood or optional carbon fiber. The front and rear bucket seats are separated by a center console, and the front seats power forward to ease access to the surprisingly usable rear seats. The triple-insulated power-convertible top on the GT Convertible deploys in just 24 seconds, at speeds up to 20 mph, and rear rollover bars pop up to protect occupants in case of a crash. Upfront, controls are relatively minimal, with an 8.4-inch screen relaying major functions. It can be controlled via touch or a central dial to the right of the transmission lever. Trunk space in the coupe is merely adequate at 9.2 cubic feet, and convertible models are even stingier with only 6.1 cubic feet.
2018 Maserati GranTurismo Exterior
Even though the Maserati GranTurismo has been around for about a decade, the design isn't dated thanks to the classic Pininfarina lines. Its long hood and short rear deck with its integrated spoiler give it a classically sporty look, and the projecting grille and trident logo are equally classic Maserati. Moreover, updates for 2018 to the grille, front and rear bumpers, and headlights help keep this Italian exotic car feeling fresh. Maserati GranTurismo MC models aim to inject a more aggressive image with a unique front fascia, optional carbon-fiber hood and centralized rear tailpipes. All models are shod with big, 20-inch wheels. GT Convertible models have a triple-insulated fabric roof in your choice of colors.
2018 Maserati GranTurismo Standard Features
The greatest attractors of the 2018 Maserati GranTurismo coupe and GT Convertible are its Ferrari-built engine, exquisite design and the mere fact that it's a Maserati. It doesn't contain the long list of features like more mainstream luxury coupes and convertibles, but it does at least come with amenities including dual-zone climate controls, electric opening trunk, and universal garage remote. The infotainment update for 2018 bundles an 8.4-inch touch screen with Apple CarPlay/Android Auto integration, navigation, and a new Harman Kardon premium audio system that puts out 750 watts through 10 speakers in the coupe and 825 watts via 11 speakers in the GT Convertible.
2018 Maserati GranTurismo Options
While the 2018 GranTurismo has been updated some on the tech front, it still severely lags rivals in other aspects, especially those pertaining to active driving and safety systems. For example, you won't find even basic systems like automatic emergency braking that's standard in a Toyota Camry, nor will you be able to equip the Maserati with the slick, semi-autonomous driving systems or even lane-departure warning easily found in mainstream luxury brands. Also missing are creature comforts such as ventilated and massaging seats. Aside from the MC performance edition, most options are limited to interior and exterior aesthetic upgrades. A stiffer suspension setup is available for a sportier feel.
2018 Maserati GranTurismo Engine
The Maserati GranTurismo uses a 4.7-liter V8 engine built by its Italian cousin, Ferrari. It is an exemplary engine with an intoxicating exhaust note. It produces 454 horsepower and 384 lb-ft of torque. The GranTurismo MC models don't get a power boost, but are slightly quicker off the line thanks to other enhancements. The GranTurismo runs from 0-60 mph in the mid-4-second range, with the convertibles a tick slower. All models are rear-wheel drive and use a 6-speed automatic transmission. Steering-wheel-mounted paddle shifters allow manual shifting. The Maserati also has an Ice mode for low-grip situations, forcing the transmission to start in second gear.

4.7-liter V8
454 horsepower @ 7,000 rpm
384 lb-ft of torque @ 4,750 rpm
EPA city/highway fuel economy: 13/20 mpg (convertible), 13/21 mpg (coupe)
How Much Does the 2018 Maserati GranTurismo Cost?
The 2018 Maserati GranTurismo has a Manufacturer's Suggested Retail Price (MSRP) starting at just over $134,000 for the coupe and over $150,000 for the GranTurismo Convertible. The GranTurismo MC coupe starts over $151,000, while the MC convertible variant begins over $162,000. At these prices, the Maserati GranTurismo sits in a middle ground, above the starting prices of fresher, faster, and more technologically advanced rivals like the revamped Porsche 911, all-new BMW 8 Series, Mercedes-AMG GT and Lexus LC, but below exotics like the Aston Martin DB11 and Bentley Continental GT. Before buying your high-end luxury-performance coupe or convertible, check the KBB.com Fair Purchase Price to see what others in your area are paying. The Maserati GranTurismo's resale value isn't very strong, and should be well behind rivals like the Porsche 911 and Lexus LC.
Read less
2018 Maserati GranTurismo Consumer Reviews
---
mcfische
12/07/2018
2014 Maserati GranTurismo
"no other car comes close"
it loves to drink very expensive gas.
Wife bought this car for me. To be honest it always made me nervous driving it forever as I was worried about the dependability etc. This car hasnt had anything go wrong with it. Oil and filter changes will set you back until you are comfortable doing them yourself. You still need to realize that 4.2 gallons of Full synthetic and a special Ferrari Oil filter is not something you get at Jiffy Lube. This car has a sound no other car has and is comfortable to drive until you choose to make it uncomfortable by pressing the "sport" button and floori
ng it.
Read less
---
wayne186
07/01/2018
2014 Maserati GranTurismo
"Amazing ride, stunning looks, depreciates soo bad"
Buy 3yr used & you will be in heaven
Deprectiation horrificus, bad nav & integration
I have had my 2014 since November 15. To be fair I think I probably over paid looking at the stats on used car prices. I paid 123k with 830 miles (ex-demo) and 28k miles/2 years and 8 months later it is worth around 60k trade in or 65k private sale. So 50% depreciation (or 2k per month average) is what you can expect with this car if you bought like I did.. a depreciation curve so bad that it will make your wallet cringe. Trunk size will struggle to fit a golf club if you have the convertible. The last negative I have on this car is the na
vigation and smart phone integration. It is out of this world horrible and pointless BUT this is the negative you can fix. Just buy yourself a cell phone mirroring system from Naviks for about 300 or so, install it (easy to do yourself if you are mechanically minded) and you will have all those cool gadgets (especially WAZE nav app) and all of your music and cell integration in the center console. Well that is all of the bad news.. the good news is that from what I can see if you buy a 3 year used car with decent miles and service history you will love this car without the bitter financial taste. The roar of the exhaust is exquisite, the plush and luxury interior is unmatched in any other car that I have seen at the price point and the sheer power with style is stunning. No you can not throw this car around corners like an M3 (unless you have nerves of steel and you are a seasoned F1 driver). Other things I love is the fact that you wont get stung when you come to sell it if you decide to do all of your own maintenance (which I do and its very easy). Service intervals are every 12.5k or every year and for the most part are just engine, coolant, brake and steering fluid flush with two air filter replacements and the serpentine belt (need to replace another belt to get the serpentine off though). All can be bought from F1 dynamics for around 550 and DIY vs a dealer service at 2k+ I give this car a 4/10 rating in value because of the depreciation which reduces my overall rating to 6/10. Those numbers change of you get a great deal but dont pay more than 60k for a 3 year old model with less than 26k miles on it or average 12k miles per year.
Read less
---
wayne
03/07/2017
2016 Maserati GranTurismo
"Amazing marred by sickening depreciation & no tech"
Stunning craftsmanship, amazing looks, great sound
Sick deprecition, no phone integration, bad paint
I have to say Ive been living with this car for 16 months. I bought an ex-showroom model 2014 red convertible GT sport with white leather interior at 123000 in November 2015 with a mere 1050 miles on the clock. The car is an amazing drive, the exhaust is amazing and you will certainly get looks everywhere you go and this is almost where the fun stops. I was shocked to discover how much these cars depreciate, it made me sick when I realized and even after buying an ex-showroom model thinking the major hit had already happened I am now the p
roud owner of an amazing car that is plummeting in value like a stone. In 12 months my car dropped 50,000 in value!! Now nobody buys a car as an investment but you certainly do not expect this kind of depreciation and now I am too stubborn to sell this car because the major pain has hopefully passed. Most of the blood has already spilled and the descent in value is slowing down finally so I am hoping I dont wince each time I sit behind the wheel. I wish I had stumped up the extra cash and bought a Ferrari or something that holds its value a little better. A couple of other things for you prospective MAS owners to consider. 1: The GPS system sucks as well as the smart phone integration. You cant connect your iPhone and stream music to the car unless you plug the headphone jack into the port in the glovebox and fyi that USB port does NOT charge your phone so good luck reaching over to the glovebox and changing the song. I HIGHLY recommend if you buy this car because it is so sexy and you dont care about the depreciation then as soon as you drive it off the lot that you buy yourself a Naviks mirroring system and install it. What this does is connect to your head unit and mirror your phone to the cars display screen so you can drive using Waze (awesome app for avoiding the po po which you really need in this car). Of course you can use any other navigation from your phone and you will want to because the MAS GPS nav is rotten (you need to know the county before you can input the road as your destination). Plus you can stream all your music all day long. 2: The paint job is as thin as they come! I had small chips appear on the rim edge of my doors and normally a stone chip on the hood on most other cars will not be too visible but on the MAS you can see it right away. The base coat is white and the final coat is very thin with a lacquer finish and chips easily. (Apparently a well known problem with these cars according to the service guys). If you can live with the bad things I pointed out then go for it, this car is truly amazing.. I just wish Maserati could do something about the resale value of these cars, fix the paint issues and install a much better system that integrates with your smartphone than the plop in my 2014. BTW if youre in the market for an SUV that Levante is just sick amazing luxury but Im not ready for that just yet :)
Read less
---
Snow man
06/18/2015
2014 Maserati GranTurismo
"Amazing and sexiest vehicle on the road"
So much fun and amazing ride
Not very modern with tech stuff but who cares!!
Fast, nimble, sexy, fun comfy and what a sound!!!!! I have had a Jaguar XKR,,Porsche 911, a Mercedes SL550 but nothing comes even close to the amazing driving experience not to mention the incredible looks my baby gets! Yes it's an amazing ride for sure!!
---
2018 Maserati GranTurismo Specs & Features
Based on lowest-priced style.
Technology
Bluetooth Wireless Technology

Cruise Control

Hands Free Phone

Navigation System

Remote Keyless Entry

Real-Time Traffic Information

SD Card Slot

Smartphone Interface

USB Port

Voice Recognition System
Entertainment
AM/FM Radio

MP3 Player

Satellite Radio

# of Speakers - 11 speaker

Amp Power - 900 watts

Auxiliary Input Jack

Bluetooth Streaming Audio
Seating
Heated Front Seats

Leather Seats

Memory Driver's Seat

Power Driver's Lumbar Support Seat

Power Driver's Seat
Comfort & Convenience
Front Air Conditioning

Power Locks

Auto-Dimming Interior Mirror

Automatic Air Conditioning

Dual-Zone Automatic Air Conditioning

Power Liftgate/Trunk Release
Fuel Economy
EPA City - 13 mpg

EPA Class - Sub Compact Cars

EPA Hwy - 20 mpg

EPA Combined - 15 mpg
Performance
Horsepower - 454 hp

Horsepower RPM - 7000 rpm

Stroke - 3.33 inches

Torque - 384 foot pounds

0 to 60 - 4.9 seconds

Top Speed - 177 mph
Interior
Cup Holder

Leather-Wrapped Steering Wheel

Power Windows

Power Outlet

Steering Wheel Controls

Tilt Steering Wheel

Tilt/Telescoping Steering Wheel

Wood Interior Trim
Exterior
Alloy Wheels

Automatic Headlights

Heated Mirrors

HID Headlights

Number of Doors - 2 doors

Power Mirrors

Tires / Wheel Size - P245/35YR20

Upgraded Wheels

Wheel Type - Alloy

Rear Tires / Wheel Size - P285/35YR20

Sidewall Description - BSW

Tire Type - Performance

Adaptive Headlights

Auto-Dimming Exterior Mirrors

Fog Lights

Front Spoiler

LED Daytime Running Lights

LED Tail Lights

Memory Exterior Mirrors

Power Folding Exterior Mirrors

Power Retractable Soft Top

Rain Sensing Windshield Wipers

Rear Spoiler
Warranty
Basic Miles - 50000 miles

Basic Years - 4 years

Powertrain Miles - 50000 miles

Powertrain Years - 4 years

Roadside Assistance Miles - Unlimited miles

Roadside Assistance Years - 3 years
Mechanical
Brakes: Front - Disc

Brakes: Rear - Disc

Braking System - Anti-Lock

Drivetrain - RWD

Engine Immobilizer

Engine Type - Gas

Power Steering

Tachometer

Transmission Type - Automatic

Cylinders - 8 cylinders

Displacement - 4.7 liter

Bore - 3.70 inches

Compression Ratio - 11.2

Fuel Induction - Sequential Fuel Injection

Total no. valves - 32 valves

Valve Train - Dual Overhead Cam

Engine Configuration - V

Max Engine Speed - 7200 rpm

# of Speeds - 6 speed

CID - 286 cubic inches

Recommended Fuel - Premium

Manual Mode - Sportshift

4-Wheel Disc Brakes

Anti-Lock Brakes

Hill Start Assist

Paddle Shifters
Dimensions, Weights & Capacities
EPA Passenger - 86.0 cubic feet

Fuel Capacity - 19.8 gallons

Height - 53.3 inches

Max Seating Capacity - 4

Overall Length - 194.2 inches

Standard Seating Capacity - 4 passenger

Towing Capacity, Maximum - Not Recommended

Trunk or Cargo Capacity - 6.1 cubic feet

Turning Diameter - 40.4 feet

Wheel Base - 115.8 inches

Width without mirrors - 75.4 inches
See less
2018 Maserati GranTurismo Safety
Crash Test Rating
Safety information is currently not available for this vehicle.
Please check back in the future.
2018 Maserati GranTurismo Safety Technology
Child Seat Anchors

Driver Airbag

Passenger Airbag

Stability Control

Traction Control

Front & Rear Parking Sensors

Front Head Curtain Airbag

Front Side Airbag

Rear Parking Sensors

Rear View Camera
2018 Maserati GranTurismo Rankings
Consumer Ratings
4.0 Rating
#3
2018 Maserati GranTurismo
454 HP