Narrow year range (drag arrows to filter):
See photos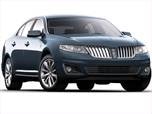 For 2010, Lincoln offers the twin-turbocharged EcoBoost V6 in the MKS. Good for 355 horsepower, the EcoBoost engine delivers V8-like power with V6 fuel economy. New standard features include MyKey programmable speed and radio volume system, a power rear sunshade, rain sensing wipers, the Forward Sensing System, adaptive HID head lamps and intelligent access with push button start. New options include Active Park Assist for one-touch parallel parking and a number of appearance and convenience packages.
About Lincoln MKS
A thorough overhaul last year brought a new look to the somewhat stoic MKS, but whether it will be enough to compete with sleeker designs from Cadillac, Lexus and even Hyundai is yet to be seen. Because it is based on the Taurus platform, there are still plenty of thinly veiled crossover parts from the Ford sedan, and no V8 engine or rear drive platform. However, for those not bothered by such trivialities, the MKS for 2014 has plenty to offer. From its standard continually-adaptive suspension and available all-wheel drive (AWD), to its 365-horsepower EcoBoost V6 engine and myriad of cool electronic interfaces such as climate controls that operate at the swipe of a finger, the MKS is luxury done Lincoln-style.