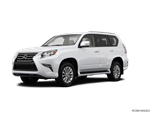 Cresting the halfway point of its current lifecycle, the Lexus GX sees a number of changes for 2014. Highlights include a larger 8-inch touch-screen display (up from seven inches), Lexus' 8th-generation infotainment system, standard LED headlights, a newly available blind-spot monitoring system, and revised front and rear bodywork.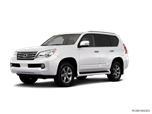 The Lexus GX 460 rolls into 2013 without substantial changes to its specifications or equipment.
About Lexus GX
"This is my gift, my curse." While we don't normally begin our reviews with quotes from popular superhero films, the above reference does do a respectable job of encapsulating the core essence of the 2014 Lexus GX 460. Riding atop a reinforced boxed ladder frame, the Lexus GX can conquer all manner of challenging off-road situations without breaking a sweat. But when it comes time for urban duty, the GX's excessively rugged underpinnings produce a ride quality that is decidedly less forgiving than that of the BMW X5, Acura MDX, Infiniti QX60, and Mercedes-Benz M-Class. Nevertheless, practical incentives like a strong record for reliability and above-average residual values make the Lexus GX a recommendable buy for the adventurous-yet-sensible luxury SUV shopper.