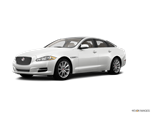 For 2014, the normally aspirated V8 is dropped from the lineup and a new high-performance XJR trim replaces last year's Supersport, offering more power and luxury features. The XJ LWB model receives the ultimate in sound systems, a 1,300-watt Meridian Reference Audio unit with no fewer than 26 speakers.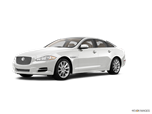 The big news for 2013 is the addition of a more fuel-efficient V6 engine at the base of the line and the option of an advanced AWD system to go with it. There are also new audio systems from Meridian.
About Jaguar XJ Series
Jaguar cars have always stood apart from other luxury brands. Not as commonplace as the Mercedes-Benz S-Class, Audi A8 or Lexus LS, the owner of a 2014 Jaguar XJ is endowed with a sense of exclusivity, a trait highly sought after by those who shell out big bucks for their wheels.

Legendary craftsmanship is married to improving quality and reliability scores, although the big XJ still lags behind most rivals in this area. Still, with high-end luxury as only the Brits can do it and a new high-performance XJR model in the lineup, 2014 promises to be a very good year for the XJ, something the competition might want to keep an eye on.