Choose your
Jaguar
(1 total)
Use the check boxes below to see only the categories you're interested in.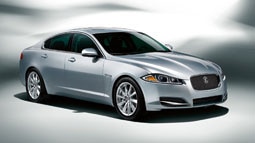 Jaguar XF
Offering an unimitable dose of Britanic flair, the Jaguar XF is the cure for the common mid-size luxury sedan.
7.2/10
KBB.com
Expert Rating
---
---
Jaguar in the News
---
---
About Jaguar
While in U.S. politics the concept may be viewed as refreshing, companies like Jaguar just might see "change" as a necessary evil. For a brand recognized for its rich history, there is tremendous challenge tied to blending contemporary style and engineering with distinct cues that have long distinguished every Jaguar car. Much to the pleasure of Jaguar fans everywhere, that challenge has been met head on, with the results being displayed by an impressive grouping of sedans, coupes and convertibles.

Positioned as a replacement for the Jaguar S-Type, the four-door Jaguar XF comes to the table with plenty of luxury, albeit with a look that is relatively un-Jaguar-like. The XF's bigger brother, the Jaguar XJ, has been appropriately updated over the years, yet still bears a strong resemblance to past versions including the Jaguar XJ6. Next up is the Jaguar XK, a seductively-styled two-door that, like the XJ, can be ordered in regular guise or in high-performance trim as the Jaguar XKR. The entry-level Jaguar X-Type was discontinued with the 2008 model year.