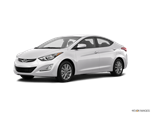 The 2016 Hyundai Elantra compact sedan adds a new Value Edition on the SE trim, while the Sport trim has its leather seating and sunroof deleted. The Limited trim gains standard proximity key and dual automatic temperature control, while the 5-door Elantra GT receives new front-end styling and more features.
After a more thorough refresh last year, changes for the 2015 Hyundai Elantra mostly poke around the edges. There are three new option packages, plus a smattering of new colors. Otherwise, the Elantra is the same sharp-looking compact we've come to know and love.
About Hyundai Elantra
Hyundai's compact Elantra sedan and hatchback return for 2016 with new features, a lower price and, for the 5-door Elantra GT, a new look. Hyundai has made a name for itself by offering premium features on its compact cars, scoring top marks in the areas of fuel economy, power and interior space, then closing the deal with a standard 10-year/100,000-mile powertrain warranty. With resale figures now rivaling those of the Honda Civic and Toyota Corolla, the compact 2016 Hyundai Elantra sedan and GT hatchback could rest on their laurels. Instead, the Elantra continues to add value and style, with a bold new front end on the Elantra GT 5-door, and segment exclusive features such as ventilated front seats.