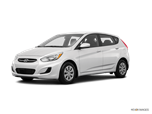 The Hyundai Accent rolls into 2015 with an updated front-end design, new interior fabric patterns and an easier-to-read LCD audio display. An outside temperature readout becomes standard, and the Accent SE's name has been changed to the Accent Sport.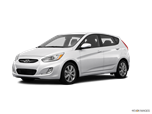 The Hyundai Accent for 2014 gains sliding sun-visor extensions, a one-touch triple turn signal and a driver's-side blind-spot mirror. The SE Premium Package adds a tilt/telescopic steering wheel, projector-style headlights with LED accents and a driver's-side auto-up window.
About Hyundai Accent
The Accent is Hyundai's least expensive car, but it's also welcome proof of how far the automaker has come in a few short years. Once relegated to "econobox" status, today's Accent looks and feels more substantial than its sub-$16,000 starting price might suggest. Available as a sedan or 5-door hatchback, the 2015 Hyundai Accent offers value, efficiency and easy operation. It's not as fun to drive as subcompact rivals like the Ford Fiesta or Mazda2, nor quite as versatile as the Honda Fit, but in addition to its polite road manners, the Accent boasts Hyundai's class-leading warranty that includes a generous 10-year/100,000-mile powertrain guarantee.