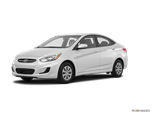 Hyundai's subcompact 2016 Accent sedan and hatchback receive revised trim names, replacing GLS and GS with SE. The Sport trim's power sunroof option has been deleted.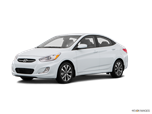 The Hyundai Accent rolls into 2015 with an updated front-end design, new interior fabric patterns and an easier-to-read LCD audio display. An outside temperature readout becomes standard, and the Accent SE's name has been changed to the Accent Sport.
About Hyundai Accent
As Hyundai's least expensive offering, the stylish Accent offers value, economy and reliability at a sub-$16,000 price. No longer the flimsy and Spartan econobox of the past, the Accent looks and feels more substantial than the average subcompact and it comes standard with an amazing 10-year/100,000-mile powertrain warranty. The 2016 Hyundai Accent subcompact comes as a sedan or 5-door hatchback, further expanding its versatility. Although competent, the new Accent isn't as fun to drive as the Ford Fiesta, Chevy Sonic or Honda Fit, and its fuel economy lags behind the Nissan Versa and Toyota Yaris. Then again, none of these competitors can match the Accent's standard 10-year/100,000-mile powertrain warranty.