Narrow year range (drag arrows to filter):
See photos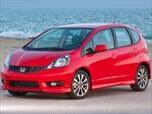 Joining the lineup for 2013, the new battery-electric Fit EV represents Honda's first attempt at a modern electric car in the U.S. market. Given its $37,000-plus sticker price (final cost after the 36-month lease, incentives included), only 1,100 copies will be produced over the next three years, with availability limited to all but a handful of states.
About Honda Fit
Honda has proven with the Fit that an entry-level economy car doesn't need to be devoid of personality, especially when it comes to design, features and being fun-to-drive. With the all-new 2015 Honda Fit, the automaker builds on the success of the original with notable improvements in spaciousness and creature comforts not found on any other car in its class. While the new 5-passenger hatchback doesn't have the cute, bug-eyed face of the previous one, the thinner headlights, deeper character lines and revised dimensions add both maturity and greater utility. These attributes, combined with the value it delivers in both its sticker price and fuel economy, compare favorably against a field of strong competitors such as the Nissan Versa Note, Ford Fiesta and Hyundai Accent.