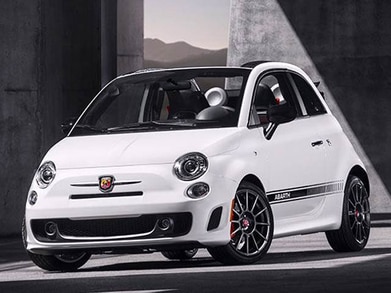 Combined Fuel Economy
27 MPG
Pros
If you're looking for an inexpensive subcompact that doesn't look like an inexpensive subcompact, the 2018 Fiat 500 makes an excellent choice. Bright colors and plentiful options make the 500 more appealing than the Honda Fit or Smart ForTwo, and it undercuts the Mini Cooper's price by a few thousand dollars.
Cons
The 500 isn't as roomy or comfortable as a Honda Fit or Nissan Versa Note, and its reliability and resale figures also lag behind most rivals. The 500 doesn't offer advanced driver assists like collision avoidance or adaptive cruise control, and offset crash-test ratings from the Insurance Institute for Highway Safety are rather poor.

What's New For 2018
For 2018, the 500 gets a bump in horsepower thanks to the addition of a turbocharger on every model. Pop and Lounge models gain performance brakes and suspension, 16-inch wheels, a rearview camera, a rear spoiler, ground effects and fog lights.
Read less
2018 FIAT 500c Abarth Pricing
Get Kelley Blue Book® Pricing
See how style, options and other factors can impact pricing in your area.
2018 FIAT 500c Abarth Expert Review
In a market growing increasingly difficult for small cars, the 2018 Fiat 500 and 500c cabrio try to lure buyers by offering a turbocharged engine on every model. Unfortunately for Fiat, buyers continue to gravitate toward compact SUVs, especially as gas remains relatively cheap. In its favor, this new 500 has a unique look, a bold color palette and plenty of available features. Although not big on passenger space, the 500 makes an ideal urban commuter. It's fun to drive, sips fuel and doesn't cost a lot to own. With the Ford Fiesta soon to be exiting the stage and the Mini Cooper getting up in price, the 500 Pop, Lounge and sporty Abarth trim may yet be able to exploit this niche market.
Driving the 2018 FIAT 500c Abarth
With its newfound horsepower and lightweight body, the 2018 Fiat 500 is a much more enjoyable ride. The base 500 is no GTI (you can look to the 160-horsepower Abarth for that), but the 500 is now a competent road car capable of making short work of onramps, lane crossings and nervous passing maneuvers. The 500's small size makes it ideal for city driving, and because it takes up no more than 140 inches, finding a parking space is child's play. The 500's steering is quick and precise and its new suspension provides less lean and bounce while still keeping the ride fairly comfortable. The 500's excellent 5-speed manual is wonderful, but we know the realities of bumper-to-bumper traffic make the 6-speed automatic a more logical choice. However, if the enthusiast-oriented Abarth is more your thing, the manual is a must. For the environmentalist, Fiat builds the 500e, an electric version that can travel up to 87 miles on a single charge.
Favorite Features
INTELLIGENT POWER CONVERTIBLE TOP
Unlike most convertible tops that fully retract into a trunk well, the 2018 Fiat 500c utilizes a canvas roll-top that exposes occupants to the outside world without removing the protective metal frame around the windows and doors. The roll-top design permits operation even at speeds up to 60 mph.

ABARTH
There aren't many nimble, lightweight cars that also offer the power of a turbocharged engine. The GTI and Mini have both grown in size and price, and the feisty Ford Fiesta ST is soon to be no more. In the 500 Abarth, you'll find an affordable performer that loves the curves.

2018 FIAT 500c Abarth Interior
Fiat's subcompact 500 for 2018 is roomier up front than you might expect, and just as tight in back as it looks. The interior style lives up to the promise of the quirky but fashionable exterior, and we found the materials, build quality and seat comfort impressive for a car with a starting price around $17,500. As the athlete of the group, the Fiat 500 Abarth offers aggressively bolstered front seats, exclusive red stitching and a thick-rimmed, flat-bottom steering wheel.
2018 FIAT 500c Abarth Exterior
The subcompact 2018 Fiat 500 is a modern interpretation of 1957's tiny, rear-engined original. Although larger than the original, it's still seven inches shorter than today's Mini Cooper. The iconic sloping rear end embodies the 500's personality, though it limits rear headroom. The Fiat 500 is available in a stretched 4-door model that alleviates many of the coupe's shortcomings. The 500 is offered in Pop, Lounge and Abarth guises, all available in coupe or convertible form. The 500e electric is offered in coupe form only. Wheels, fascias and body trim differentiate the models.
2018 FIAT 500c Abarth Standard Features
For 2018 the Fiat 500 Pop includes a leather-wrapped steering wheel, 16-inch aluminum wheels, a 5-speed manual transmission, air conditioning, cruise control plus power windows, power locks and power heated side mirrors. Also standard are Bluetooth, a rearview monitor and a 6-speaker 5-inch touch-screen audio system with a USB port for portable music players. The range-topping Abarth variant includes a 276-watt Alpine audio system, 16-inch hyper-black wheels, sport-tuned suspension and a leather-wrapped dashboard. Standard safety features include seven airbags and hill-start assist to help prevent vehicle rollback on steep inclines.
2018 FIAT 500c Abarth Options
A fully loaded 2018 Fiat 500 Lounge includes a 6-speed automatic transmission, leather seats, heated front seats, rear parking sensors, navigation, Beats by Dr. Dre audio system and automatic climate control. The 500 Pop Cabrio Sport package adds 16-inch hyper-black alloy wheels and black-trimmed lights, while the Popular Equipment package brings dual-zone automatic climate control and an auto-dimming rearview mirror. The mighty Abarth offers larger 17-inch wheels, 2-tone leather-trimmed seats and your choice of either white or red body-side stripes.
2018 FIAT 500c Abarth Engine
The front-wheel-drive 2018 Fiat 500 subcompact is motivated by a small but sophisticated 1.4-liter turbocharged 4-cylinder engine using Fiat's patented MultiAir technology, which varies intake-valve timing and lift. Fiat tunes this engine to two power levels: The 500 Pop and Lounge get a 135-horsepower version, while the Abarth cranks out 160 horsepower. The 500e electric is rated for 111 horsepower and 147 lb-ft of torque. With the exception of the 500e, all of the 500s offer the choice of a 5-speed manual or 6-speed automatic transmission. We like the automatic for its extra ratio and responsive shifting though it does cut fuel efficiency by more than 10 percent. The 500e uses a single-speed automatic.

1.4-liter turbocharged inline-4 (Pop, Lounge)
135 horsepower @ 5,500 rpm
150 lb-ft of torque @ 2,400-4,200 rpm
EPA city/highway fuel economy: 28/33 mpg (manual), 24/32 mpg (automatic)

1.4-liter turbocharged inline-4 (Abarth)
160 horsepower @ 5,500 rpm
170 lb-ft of torque @ 2,500-4,000 rpm
EPA city/highway fuel economy: 28/33 mpg (manual), 24/32 mpg (automatic)

Permanent magnet electric motor (500e)
111 horsepower
147 lb-ft of torque
EPA city/highway fuel economy: 122/103 mpg equivalent
EPA range on a full charge: 87 miles

How Much Does the 2018 FIAT 500c Abarth Cost?
The 2018 Fiat 500 lineup sees a slight bump in pricing this year, with the Pop starting at a Manufacturer's Suggested Retail Price (MSRP) right around $17,500. The Lounge climbs to just over $21,000, while the convertible version adds about $1,500 to any trim. The Abarth starts right around $21,750, a gain of just $750 over last year's car. The California-and-Oregon-only 500e electric tops out around $34,240. However, incentives and tax credits can trim that price substantially. The 2018 Mini Cooper Hardtop starts right around $22,500 and can top $35,000. Fiat includes a Mini-matching 4-year/50,000-mile bumper-to-bumper warranty with roadside assistance and a 3-year/36,000-mile no-cost maintenance package. Kelley Blue Book Fair Purchase Price should reflect real-world transaction prices close to MSRP, so be sure to check them out before you purchase. Five-year projected residual values for the 500 fall considerably short of the Mini's, but remain slightly higher than the Ford Fiesta's.

Read less
2018 FIAT 500c Abarth Consumer Reviews
---
GrizzInWI
06/16/2019
2018 FIAT 500 Abarth
"About As Much Fun You Can Have On Four Wheels"
A blast to drive, economical, affordable
Big turning circle, tires/ rain grooves
I'm going on my third month of ownership and am very pleased so far. The Good: Easy to live with; the two longer doors (vs. four) and the higher seat height often panned in "expert" reviews actually make getting in and out much easier. What's the point of having four doors when they're Barbie and Ken sized? Front seats are comfortable and supportive and keep you in place. Economical: 28 to 34 real world mpg depending on how much of a lead foot you have. 91 octane recommended, 87 octane "acceptable". Ride: Firm but compliant and better than an
y car with such a short wheelbase (90.6") has a right to. Best of all the 500 models and many of its competitors imho thanks in part to Koni FSD (Frequency Selective Damping) technology. Handling: Much less body roll than my previous 500 Sport, the Abarth stays planted and composed. Power: Feels like a A/A Top Fueler compared to a non-turbo 500 and oh, the sound! The Bad: Unlike other 500 models, the Abarth has a big turning circle (37+ feet) ..... if you do a lot of u-turns it could be an issue. The Pirelli PZero tires stick well, are good in the wet but they don't like rain grooves. Conclusion: For a practical, fun to drive car at this price point, the FIAT 500 Abarth is a class of one.
Read less
---
RayofSunshine
05/30/2019
2013 FIAT 500
"loved it for the first few years and then...."
gas mileage, fun to drive
engine quit at 78K, poor interior quality & paint
THE GOOD...I loved it from the day I bought it was loaded and affordable, great gas mileage and features THE BAD...the first couple years were great, it was reliable, quick and fun. After 2016 it started to show it's weaknesses...exterior paint started to peel, shift stick leather came undone, armrest broke, drivers door handle broke, started to do a weird stutter and die thing...very randomly and no one could figure out the issue...blew through rear tires (3 sets in 78K of 40k rated tires) - best guess from the tire guys is the weight of th
e vehicle allowed it to "hop" to much causing awkward and rapid tire wear...then the nail in the coffin...it just died...cylinder 3 went out and needed a new engine with only 78K miles on it. The other challenge is finding a mechanic to work on it...I was not able to find one in a 50 mile radius...so I sold it as a junker at the ripe old age of 5 years.
Read less
---
Pterodactyl
04/21/2019
2012 FIAT 500
"A fun, sporty, head-turning ride for two."
I wish it was another 6 inches long.
I purchased the 2012 FIAT 500 Lounge model in September 2011. Loaded with every option (including all leather heated seats) except for a retractable sunroof. Greatly improved the ride and handling by replacing the rear coil springs with progressive rate coils which also lowered the rear by about one inch. Highly recommend the six-speed automatic -- use only premium fuel which greatly improves performance and gas mileage.
---
Paul
04/16/2019
2013 FIAT 500
---
Mainemotorguy
02/28/2019
2012 FIAT 500
Fun, Cheap to buy, run, insure, and fix, has soul
stiff ride, limited rear seat leg room
I bought this car second hand from a Ford dealer in as-is condition. The car was filthy and scraped up. I paid 2K under book, and used $200 of the savings to fix the paint and to have it cleaned. Once I took delivery of it, I was hooked. The peppy little 4 pot wont set the world on fire, but it may set a fire in your heart. You cant help but smile when the little engine revs high does a little back fire. In town you can zip through traffic at a good clip, acceleration is very good for its size (you feel like you're doing 50 at 35), but not fast
(topping out at around 90). My particular car had always been dealer maintained and always had 93-octane run in it so I continued the pattern. Servicing comes every 5K at about $130 a whack, including wipers and other incidentals. Tires run about $65 a piece on the 16" wheels, and the ride from those wheels is well... jarring. The suspension is very sporty in the sport model (which mine is), it grips and goes without hesitation. I have pushed mine to the limits on a private road and it took a LOT of work to get it to come loose. The economy of the car is polarized. If you drive it sensibly and make an effort to keep the RPMs down it is possible to get 450 miles out of a tank. My best recorded MPG was 50 in town and 68 highway. But if you drive for smiles per gallon over miles per gallon you can expect 26 city and 38 highway. This car is quick, but not fast. You feel as though you are in a rocket in town from the noise and the feeling of the road, but when you get onto the interstate that image all but falls. The 5-speed manual will make the little engine tach at 5500 when cruising at 80mph, a sixth gear would be a great addition, but alas Fiat wont make it so. The ride can be tiring on the highway for stretches in excess of 3 hours due to the noise from an engine revving at 5500 rpm. The build quality of the exterior is comparable to a mid 2000s Lincoln (my previous car), its solid albeit a touch tinny, and well screwed together, all gaps are equal and the repairs are relatively straightforward. The interior feels a touch cheap compared to the likes of the Ford Fiesta, due in no small part to the lightly designed door cards and minimalist dashboard. But it is all screwed together well and VERY easy to upgrade, I replaced my doorhandles with brighter chrome, and it took me 15 minutes. The upgradability and customizability of this car reminds me of a 1990s Honda, its easy and straight-forward with no tangle of wires underneath. Parts are plentiful and inexpensive, with major components being relatively inexpensive to replace, I had my clutch redone for under $300. The stock stereo is brilliant, with mine I got Bose Efficiency surround sound which blow my old alpine speakers from the old Lincoln out of the water. The interior has no squeaks or rattles, and the cloth headliner is easy to clean should you accidentally explode some soda in the back seat. The back seat is very small and only good for small trips or more realistically, storage. Its best to consider this car a sporty 2+2 rather than a family hatchback. I normally have the rear seats folded (nearly flat I might add), to make the cargo area more usable. I managed to fit a disassembled 6'X3' dinning room table in the cargo area with the seats down! The seats are firm but not uncomfortable and the headroom is awesome. I am 6'3 and fit in the front seat without it being all the way back, with about 3" of headroom even with the sunroof! The sunroof is large and quick and has minimal buffeting at speed. When open, the car feels like a convertible to drive, especially with the windows down. Being from Maine I deal with relatively rough winters, especially out in the boondocks where I live, and with snow tires the 500 does very well! Right up to 4" of snow in which you start to make a plow out of your air dam. The climate control has dealt with sub-zero Maine winters with ease, getting up to 75* in about 5 minutes, and dealt with Florida summers with ease getting down to 68* in about the same. This car is a fun little piece of Italy that wont bankrupt you if you take care of it. Use the right fuel and don't ride it hard and put it away wet and this machine will last. With 8 Maine winters under my cars belt there is 0 rust anywhere on it! The 500 makes a phenomenal city car, commuter car, weekend cruiser, first car, and college car; but I wouldn't push it if you have kids or large pets. It is an Italian city car after all, and god knows European roads aren't that big (I know the car was made in Mexico but still). I love this car so much I bought a second Fiat to go with it. You cant beat the price, specs, quality, and fun of these cars; I've had cars from dozens of makes but the soul and spirit of the Fiat's trumps them all. The 500 3-Door Hatchback is Quick, fun, cheap to buy, cheap to fix, cheap to run, cheap to insure, easy to customize, and above all else an easy to love addition to anyones family. They've got soul, treat them well and they will treat you well.
Read less
---
2018 FIAT 500c Abarth Specs & Features
Based on lowest-priced style.
Technology
Bluetooth Wireless Technology

Cruise Control

Hands Free Phone

Navigation System

Remote Keyless Entry

Telematics / Communication Brand - Uconnect

Telematics / Communication Brand - Uconnect

Telematics / Communication Systems

Touch Screen Monitor

USB Port

Voice Recognition System
Entertainment
AM/FM Radio

Premium Radio

Satellite Radio

Auxiliary Input Jack

Bluetooth Streaming Audio
Seating
Folding Rear Seat

Cloth Seats

Heated Front Seats

Leather Seats

Memory Front Seats
Comfort & Convenience
Front Air Conditioning

Power Locks

Automatic Air Conditioning
Fuel Economy
EPA City - 28 mpg

EPA Class - Mini Compact Cars

EPA Hwy - 33 mpg

EPA Combined - 30 mpg
Performance
Horsepower - 160 hp

Horsepower RPM - 5500 rpm

Stroke - 3.31 inches

Torque - 170 foot pounds

Torque RPM - 2500 rpm
Interior
Cup Holder

Leather-Wrapped Steering Wheel

Power Windows

Rear Window Defroster

12V Power Outlet

Power Outlet

Steering Wheel Controls

Tilt Steering Wheel
Exterior
Alloy Wheels

Heated Mirrors

Number of Doors - 2 doors

Power Mirrors

Privacy Glass

Tires / Wheel Size - P195/45R16XL

Upgraded Wheels

Wheel Type - Aluminum

Sidewall Description - BSW

Fog Lights

Power Retractable Soft Top
Warranty
Basic Miles - 50000 miles

Basic Years - 4 years

Powertrain Miles - 50000 miles

Powertrain Years - 4 years

Roadside Assistance Miles - Unlimited miles

Roadside Assistance Years - 4 years
Mechanical
Alternator Amps - 120 amps

Axle Ratio - 3.35

Brakes: Front - Disc

Brakes: Rear - Disc

Braking System - Performance F&R Anti-Lock

Drivetrain - FWD

Engine Immobilizer

Engine Type - Gas

Engine Sub-Type - Turbo

Power Steering

Tachometer

Transmission Type - Manual

Cylinders - 4 cylinders

Displacement - 1.4 liter

Bore - 2.83 inches

Compression Ratio - 9.8

Fuel Induction - Sequential Multi-Port Injection

Total no. valves - 16 valves

Valve Train - Single Overhead Cam

Engine Configuration - Inline

Max Engine Speed - 6500 rpm

# of Speeds - 5 speed

CID - 83 cubic inches

CCAs (Cold Cranking Amps) - 500 amps

Recommended Fuel - Premium

4-Wheel Disc Brakes

Anti-Lock Brakes

Hill Start Assist
Dimensions, Weights & Capacities
Curb Weight - 2545 pounds

EPA Passenger - 76.2 cubic feet

EPA Total Interior - 81.6 cubic feet

Fuel Capacity - 10.5 gallons

Head Room: Front - 38.6 inches

Head Room: Rear - 36.8 inches

Height - 59.2 inches

Leg Room: Front - 40.7 inches

Leg Room: Rear - 31.7 inches

Max Seating Capacity - 4

Minimum Ground Clearance - 4.6 inches

Overall Length - 144.4 inches

Shoulder Room: Front - 49.4 inches

Shoulder Room: Rear - 46.4 inches

Standard Seating Capacity - 4 passenger

Towing Capacity, Maximum - Not Recommended

Trunk or Cargo Capacity - 5.4 cubic feet

Turning Diameter - 37.6 feet

Wheel Base - 90.6 inches

Width with mirrors - 73.5 inches

Width without mirrors - 64.1 inches

Hip Room: Front - 47.8 inches

Hip Room: Rear - 42.6 inches
See less
2018 FIAT 500c Abarth Safety
Crash Test Rating
Safety information is currently not available for this vehicle.
Please check back in the future.
2018 FIAT 500c Abarth Safety Technology
Child Seat Anchors

Driver Airbag

Passenger Airbag

Stability Control

Traction Control

Driver Knee Airbag

Front Head Curtain Airbag

Front Side Airbag

Rear Head Curtain Airbag

Rear Parking Sensors

Rear View Camera