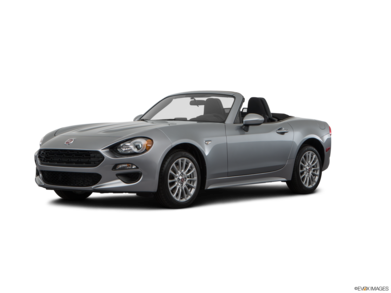 Combined Fuel Economy
29 MPG
Pros
If you're seeking a distinctive open-air sports car with a decidedly European flair, the 2018 Fiat 124 Spider offers plenty of Italian style and comfort and at an affordable price. The turbocharged engine gives it a different feel than the Miata upon which it's based, as does a reworked cabin.
Cons
If you're a driving purist, the lighter, more nimble Mazda MX-5 Miata trumps the Fiat 124 Spider every time. The Fiat's 160 horsepower is nice, but not nearly as powerful as some rivals. Long-legged drivers will find the 124 Spider's interior comes up short in the legroom department.
What's New For 2018
For 2018, the Fiat 124 Spider gains a new Red Top Edition, while the Lusso and Abarth trims see their option list reconfigured to allow customers better access to the exact features they want.
Read less
2018 FIAT 124 Spider Pricing
Get Kelley Blue Book® Pricing
See how style, options and other factors can impact pricing in your area.
2018 FIAT 124 Spider Expert Review
While its origins are rooted in the Japanese Mazda MX-5 Miata, the 2018 Fiat 124 Spider exudes all the style and soul expected of an Italian sports car bearing the storied 124 badge. Equipped with a Fiat-designed turbocharged engine and subtly reworked interior, the Fiat 124 Spider has a more sumptuous, inviting feel than the hard-edged Miata. That feeling extends to the areas of ride comfort, cabin quietness and overall interior quality. For lovers of open-air motoring, Fiat has created a stunning small convertible that handles as well as it looks, offering pricing in line with the Mazda MX-5 Miata, Mini Cooper Convertible and VW Beetle, but with an attitude more akin to a pricey Audi TT or Porsche Boxster.
Driving the 2018 FIAT 124 Spider
Among cars, weight is the enemy of performance and fun; and yet, despite weighing roughly 100 pounds more than the svelte Mazda Miata on which it's based, the Fiat 124 Spider remains utterly fulfilling to drive. Light steering efforts give the Fiat Spider a relaxed feel well-suited for enchanting jaunts over the hills and past the sea. Quicken the pace and Fiat's roadster reveals itself as a playful dance partner. Integral to the Spider's distinctive character is a 1.4-liter turbocharged engine that produces more power than the Mazda Miata's naturally aspirated engine. Extra power is great but the turbo's lag-and-surge power delivery makes us pine for the precise throttle of the Miata. With the Spider's top down, airflow around the cabin is well-controlled, ever so slightly tousling the driver's hair. Raise the top and interior noise is hushed enough for comfortable conversations and commutes.
Favorite Features
CONVERTIBLE TOP
The brilliance behind the Fiat 124 Spider's manual top is that it doesn't need a power option. So balanced is the design that the top can be dropped or raised with just one hand, all while sitting in the driver's seat.

SOUND DEADENING
Apparently the Italians found the Miata's interior a bit too loud, so they softened the noise levels by adding additional sound insulation, thicker side glass and an acoustic windshield. The results are evident once the car reaches highway speed, making it the wiser choice for long-distance jaunts.

2018 FIAT 124 Spider Interior
The base 2018 Fiat 124 Spider isn't much different from its MX-5 counterpart, but moving to the Lusso trim brings a number of upgrades including leather seats, piano-black accents and Leatherette trim. The Spider's cabin is snug, with tight-fitting seats and limited legroom, even on the passenger side. The seats sit low causing one's legs to remain in a constant outstretched position that can quickly become tiring. Headroom with the top up is surprisingly generous although taller drivers may still find themselves at eye level with the windshield's top edge. The absence of a telescopic steering wheel seems a glaring omission.
2018 FIAT 124 Spider Exterior
The 2018 Fiat 124 Spider has been meticulously sculpted to recall the classic 124 Spider of the 1960s. To achieve that look Fiat's design team overlaid thoroughly massaged bodywork, square taillights and round headlights onto the Spider's Mazda-derived platform, culminating in a 4-inch-longer roadster. Helping drive home the Spider's Italian heritage are outrageously Italian paint names including Bianco Gelato (white) and Rosso Passione (red). Drivers who relish visual aggression will find plenty of it in the 124 Spider Abarth, whose unique fascias, 17-inch gunmetal wheels, and optional $1,995 black-painted hood and trunk make it look positively furious.
2018 FIAT 124 Spider Standard Features
Nab a basic 124 Spider Classica and you'll enjoy push-button engine start, cloth seats, 16-inch wheels, air conditioning, a 4-speaker audio system with Bluetooth, and four airbags. The Lusso trim adds 17-inch wheels, heated leather-trimmed seats, Leatherette dash trim, automatic climate control and keyless vehicle access. Despite being the raciest Spider in the lineup the Abarth trim only produces four horsepower more than the Classica and Lusso, but it does include a sport suspension, limited-slip differential and charmingly aggressive exterior tweaks. Missing from all trims is a spare tire. The included tire-repair kit helps maximize trunk space.
2018 FIAT 124 Spider Options
Optional on the least expensive Classica trim is the Technology and SiriusXM Group that adds the 7-inch infotainment screen, rearview camera, SiriusXM and keyless vehicle access. Go with the more expensive Lusso or Abarth trims and you're free to select handy add-ons like rear parking sensors, navigation, adaptive headlights, rear cross-path detection, blind-spot warning, and a 9-speaker Bose audio system with a sub-woofer and speakers in the headrests. Reserved for Abarth buyers are optional Recaro seats shod in leather and Alcantara or high-performance Brembo brakes. The Red Top Edition adds adaptive LED headlights, navigation, Bose audio and a Bordeaux Red cloth top.
2018 FIAT 124 Spider Engine
The biggest difference between the 2018 Fiat 124 Spider and its Mazda twin can be found under the hood. Instead of borrowing the MX-5's engine, Fiat engineered its own 1.4-liter turbocharged MultiAir 4-cylinder powerplant. In its first use with a rear-drive platform, the Fiat engine delivers more horsepower than the Mazda's, but more important, more torque. Power is routed to the wheels via a standard 6-speed manual; however, for an additional $1,350 owners can opt for a 6-speed automatic. With a wonderfully short shifter and the ability to slip the clutch, enabling much quicker off-the-line acceleration than the automatic, we definitely prefer the manual gearbox.

1.4-liter turbocharged inline-4
160 horsepower @ 5,500 rpm (164 horsepower @ 5,500 rpm in Abarth)
184 lb-ft of torque @ 3,200 rpm
EPA city/highway fuel economy: 26/35 mpg (manual), 25/36 mpg (automatic)
How Much Does the 2018 FIAT 124 Spider Cost?
View the Fiat 124 Spider as a fancied-up Mazda Miata and you might expect a premium price but that's not the case. A manual-equipped Spider Classica glides in with a Manufacturer's Suggested Retail Price (MSRP) of $25,990 including destination; just $290 higher than a base Miata. Meanwhile, the $28,590 Lusso trim offers leather seating at a much lower price than the Miata Grand Touring, while the performance-focused Spider Abarth slightly undercuts the similar Miata Club trim. If seating for more than two sounds like a good idea, both the Mini Cooper Convertible and Volkswagen Beetle Convertible can be had for just under $27,000 and $28,000, respectively. Before you buy, be sure to check the KBB Fair Purchase Price to see what others are paying for the Fiat 124 Spider in your area. It's also worth noting that resale values for the Fiat brand have historically skewed lower than average, which could affect the 124 Spider's long-term cost to own.
Read less
2018 FIAT 124 Spider Consumer Reviews
---
PerryThePlatypus
05/29/2019
2018 FIAT 124 Spider
"If you're looking for a roadster, this is the one!"
Blast to drive, nimble, and exhilarating.
Thin paint, slightly jerky at low speed idle.
I will preface this by saying I purchased the base, bare-bones manual model. I love it. The 124 is nimble, fun to drive, and works surprisingly well as a city commuter car. Many reviews say that the power is lacking and feels like it is strung out by the top of the rev-range, but this car shines between 2800 and 5000 RPM, which is when most people will be passing other vehicles on the highway. There is plenty of passing power. There is still some turbo lag, which is to be expected. The interior quality is better than expected for a $25,000 Fi
at, but that is the wonderful Mazda build quality shining through the Italian bodywork. The seats are comfortable for smaller people, but if you're above 6'2 and 220lbs, they will feel pretty cramped. There is ample leg room on the driver's side; however, my passengers who are over 5'10 would value having more leg room. Exterior quality is good, but the paint seems to be pretty thin. I walked past my 124 with jeans on and accidentally brushed against it, leaving a pretty deep nick in the finish. Aside from that issue, the quality is just as good as inside the 124. Storage, which will always be at a premium in a small roadster, is sparse. There is no glove-box, there are no map pockets in the doors, and the center console is more for storing small knick-knacks and sunglasses than storing any sizable items. There is storage behind each seat, which are felt-lined and are decently sized for this type of vehicle. There is storage in the center between the seats; this is also the largest storage compartment aside from the trunk. Speaking of the trunk, it is larger than expected. There is enough room in the trunk to store two overnight bags to get away, but not much else. Do not expect to get a spare tire with the vehicle, and do not expect to store a spare tire that you may acquire in the trunk. It would also be wise to acquire a small scissor jack and keep it in the vehicle to facilitate the use of the fix-a-flat kit that is provided by FIAT.
Read less
---
PHXSUN
05/07/2019
2017 FIAT 124 Spider
"Like this car more everyday, owned for 2 yrs"
Styling, finish, handling, exclusivity
Some turbo lag and difficult to enter/leave
Most fun car I have ever owned, 54 yo, and like this car more now than when I bought it two years ago. Zero problems, great reliability up to now. Bought the Abarth version, love the sports mode, paddle shifters and interior. Everybody asks about this car, literally every time I take it out. Lots of little upgrades I made just improved the look, mainly red accents inside and outside the car (pearl white exterior). You can tell it was styled in Italy, interior is nicer than cars costing $75k. Provides the true roadster experience. Top comes down
or up in less than 3 seconds. Low to the ground, 50/50 weight balance provides for great handling and braking. Only main fault is some turbo lag going from 0 to 30 mph. Sports mode and paddle shifters in Abarth version compensates for some of this. Best--hardly any on the road, I have seen two versions of my car since owning it. Interior has simple to use controls and seats are great. Noise reduction throughout so long drives are comfortable. Best bang for buck sports car/roadster on the market.
Read less
---
Jim
04/23/2019
2017 FIAT 124 Spider
Fun to drive, looks, unique
Storage, size for bigger people.
A great roadster. I bought a Classico with the upgraded display and rear camera and it has become my "around town" car. It is a joy to drive and as someone who never thought he'd own a convertible, I'm so happy I decided to buy the Fiat 124. It is beautiful, sounds great, and makes going to get groceries a joy. I'm often trying to find the road less traveled so I can take a few extra corners.
---
Scoopalone
03/02/2019
2018 FIAT 124 Spider
Bought this car as a 2nd car for weekends and nights. Having owned it for a year now I'm ready to write a review. Overall fit and finish on this car are excellent. Factory Paint is very nice. I decided to put the heritage stripe on in vinyl. The optional heritage paint work applied after production looked rough on several cars on the lot. We wanted the look not the poor finish. Our car is silver with the leather upgrade including 2 tone red center inserts. We also got the Brembo package. I don't believe there is any real braking advantage in st
reet driving but on track I'm sure you'd notice better performance. The interior is snug on the edge of tight. While the moveable cup holders are a nice feature only one can be placed in a spot convenient to reach. Either driver or passenger is out of luck on spot #2 location. The car is a lot of fun to drive and handles very well. My only disappointment with the car is the lack of power provided by the 1.4. Seems with today's power plants the 200HP mark would suit the car and make other would be buyers more interested. On the plus side it gets great fuel economy. We avg about 32 mpg driving back roads in New England. Overall we really love and enjoy the car.
Read less
---
In-Lyk-Flynn
02/10/2019
2018 FIAT 124 Spider
"Super Fun Car For The Money!"
Fun to drive! Quick! Lightweight! Torque! Style!
HP for Abarth & No hardtop convertible option
Wicked fun car to drive. This is a 2nd car, NOT an everyday car. You drive this car because you want to play and have fun, not design for comfort or practicality ..it is a toy and a very good one! I love the style and the turbo...wished it had a little bit more power..wanted over 200hp at the wheels, and a hardtop roof option, but other than that, love my toy!
---
2018 FIAT 124 Spider Specs & Features
Based on lowest-priced style.
Technology
Bluetooth Wireless Technology

Cruise Control

Hands Free Phone

Remote Keyless Entry

Telematics / Communication Systems

Internet Access

Proximity Sensing Keyless Entry

Push-Button Engine Start

Voice Recognition System
Entertainment
AM/FM Radio

Satellite Radio

# of Speakers - 4 speaker

Bluetooth Streaming Audio

HD Radio
Comfort & Convenience
Front Air Conditioning

Power Locks
Fuel Economy
EPA City - 26 mpg

EPA Hwy - 35 mpg

EPA Combined - 30 mpg
Performance
Horsepower - 160 hp

Horsepower RPM - 5500 rpm

Stroke - 3.31 inches

Torque - 184 foot pounds

Torque RPM - 3200 rpm
Interior
Cup Holder

Leather-Wrapped Steering Wheel

Power Windows

12V Power Outlet

Power Outlet

Steering Wheel Controls

Tilt Steering Wheel
Exterior
Alloy Wheels

Number of Doors - 2 doors

Power Mirrors

Tires / Wheel Size - P195/50VR16

Wheel Type - Alloy

Rear Tires / Wheel Size - P195/50VR16

Tire Type - Performance

LED Tail Lights

Power Retractable Soft Top
Warranty
Basic Miles - 50000 miles

Basic Years - 4 years

Corrosion/Rust Through Miles - Unlimited miles

Corrosion/Rust Through Years - 5 years

Powertrain Miles - 50000 miles

Powertrain Years - 4 years

Roadside Assistance Miles - Unlimited miles

Roadside Assistance Years - 4 years
Mechanical
Alternator Amps - 150 amps

Axle Ratio - 3.45

Brakes: Front - Disc

Brakes: Rear - Disc

Braking System - F&R Anti-Lock

Drivetrain - RWD

Engine Type - Gas

Engine Sub-Type - Turbo

Power Steering

Tachometer

Transmission Type - Manual

Cylinders - 4 cylinders

Displacement - 1.4 liter

Bore - 2.83 inches

Compression Ratio - 9.8

Fuel Induction - Sequential Multi-Port Injection

Total no. valves - 16 valves

Valve Train - Single Overhead Cam

Engine Configuration - Inline

Max Engine Speed - 6250 rpm

# of Speeds - 6 speed

CID - 83 cubic inches

Recommended Fuel - Premium

4-Wheel Disc Brakes

Anti-Lock Brakes
Dimensions, Weights & Capacities
Curb Weight - 2436 pounds

Fuel Capacity - 11.9 gallons

Head Room: Front - 37.4 inches

Height - 48.5 inches

Leg Room: Front - 43.1 inches

Max Seating Capacity - 2

Overall Length - 159.6 inches

Shoulder Room: Front - 52.1 inches

Standard Seating Capacity - 2 passenger

Towing Capacity, Maximum - Not Recommended

Trunk or Cargo Capacity - 4.9 cubic feet

Turning Diameter - 30.8 feet

Wheel Base - 90.9 inches

Width with mirrors - 68.5 inches

Hip Room: Front - 52.0 inches
See less
2018 FIAT 124 Spider Safety
Crash Test Rating
Safety information is currently not available for this vehicle.
Please check back in the future.
2018 FIAT 124 Spider Safety Technology
Driver Airbag

Passenger Airbag

Stability Control

Traction Control

Emergency & Security Services

Front Side Airbag

Rear View Camera