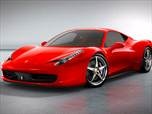 The limited-production Ferrari 458 Speciale joins the 2014 lineup. It is basically a lighter, quicker, better-handling and more powerful version of the Italia. Side Slip Control software makes the Speciale the best-handling Ferrari in the 458 stable.
About Ferrari 458 Italia
There are only a handful of mid-engine exotics on the market, but few have the gravitas and envy of the Ferrari 458 Italia and its convertible sibling, the 2014 458 Spider. Ferrari's F1 racing expertise has helped tune a car so dialed in it feels like it was born on a track. This pedigree also gives the 458 a distinct edge over other supercars, such as the Audi R8 V10 and Lamborghini Gallardo. The secret to the 458's success is a 562-horsepower V8 teamed with a 7-speed dual-clutch gearbox. This pairing permits the 458 to catapult to 60 mph in a mere 3.4 seconds, but it's the suspension's ability to manage that power that makes the Ferrari 458 one of the most desired exotics for 2014.