Narrow year range (drag arrows to filter):
See photos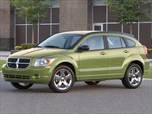 For 2010, Dodge offers just one trim, the SXT, but with five lifestyle-inspired variants: Express, Mainstreet, Uptown, Heat and Rush. All Caliber models receive a new interior with soft touch plastics on the doors and armrest, a new center console design and front seat active head restraints. A five speed manual transmission is standard on most trims, with two different CVT automatics are available.
About Dodge Caliber
When it comes to compact cars, Dodge doesn't exactly rule the roost. In fact, Dodge offers only one model, the 2012 Dodge Caliber, with dimensions that cross into mid-size sedan territory, and interior materials and an overall resale value that are arguably lackluster. It's a shame the cost cutters had their way with this one, because on paper the 2012 Caliber hatchback looks like a winner. It provides good use of interior space, has a versatile hatchback design and delivers good fuel economy. There are also a number of attractive features, such as the Chill Zone cooling storage compartment, removable rechargeable flashlight and articulating fold-down rear speaker bar that's perfect for blasting your favorite tunes at a tailgate party. But, the 2012 Dodge Caliber's execution is nowhere near as refined or buttoned down as that of the Mazda Mazda3, Volkswagen Golf or Subaru Impreza wagon.