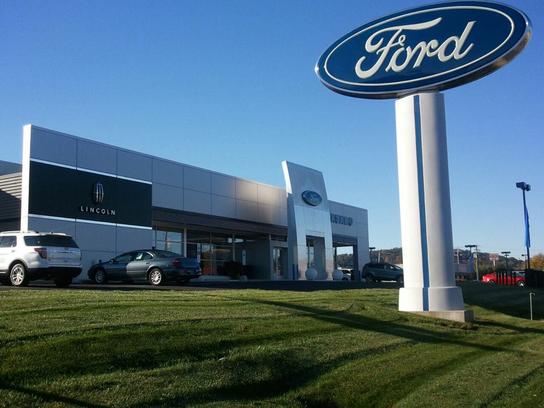 Tom Masano Ford Lincoln
1600 Lancaster Ave, Shillington, PA 19607-1544
484-772-4894
---
×



"Hundreds of Vehicles!"
Kgflyers8
5/30/2018 2:24:56 PM
Reason for My Visit:

Service

Would I Recommend this Dealer:

No
Review
Would not go here for ANY work to a vehicle. Had an issue with my 2015 Ford (in 2017) rear AC controls would not work properly, we were basically told user error. Our salesman checked and said this is nothing your doing wrong. Was told in the beginning of August the part was being ordered and happened to be on back order, would take two weeks. August comes and goes and coming back from vacation we needed a tire, we go to the dealership to get it replaced and asked about the part, the lady at the service desk confirms the part was ordered and they had it since the 2ned week in August....yet we NEVER received a call. Guess its good my tire had to be replaced and give them more of my money, otherwise we would have never known the part was in. Now we have a clicking noise in the front end when turning the wheel. Take it in once, they say we couldnt recreate the sound, drive 5 minutes away and theres the sound that they couldnt recreate in 4 hours. Setup and appointment for that following week, to be told there is an issue with a washer in the wheel. Setup an appointment for that Thursday, take it in, drive it to work, not long after, there is the clicking noise AGAIN. Back in the shop for the 3rd time the following week on a Tuesday. Get a call at 445 that the car is done. Get told that its good to go, but if we would hear the noise again to take notice of what is being done when it happens, the temp outside, is the car warm. Pick it up, drive 8 minutes home to hear the clicking noise everytime i turn the wheel. Take it back that same night to have 2 people listen to it, say "we have never heard this before". I say what if we open the hood? No one there was smart enough to open the hood to get a better idea of where the sound was coming from. Told our warranty covers a loaner...but they dont have any...GO FIGURE. Told to drop it off first thing. I ask what time they open, 730am, car is dropped off at 710am. Call them at 1230 (5 hours into the work day) and they have yet to pull the SUV into the garage. THREE times this vehicle has been there for the same problem and yet on the fourth time you dont make it a priority to get it in. We had just as bad of an expirence with having a car fixed from hail damage. Not to mention they dont call you back, no one answers the phones. Our salesman hands down AWESOME, the majority of this place is absolutley worthless! Steve (believe the service manager is his title), very understanding, helpful and got stuff taken care of. Andy (shop foremen) also great and got back to us very quickly. The rest need to take a lesson from these guys.
Mike Semp
3/31/2017 7:14:18 PM
Reason for My Visit:

Sales (Used)

Would I Recommend this Dealer:

Yes
Review
Out-of-town buyer - replacing a 2014 Expedition totaled out 2 weeks ago. Knew what I wanted, wasn't limited to any particular area to purchase from. Narrowed it down to 3 vehicles. The dealership responded in about 10min by text message (through cars.com), confirmed that I wanted to actually speak with someone and I was given the name of the associate that would be contacting me to assist me further. Pete Moreotto called about 10min after that and, got my demographics so they could get the proper paperwork lined up for my state. Made a modest deposit on Friday, they held the vehicle until Wednesday when I was able to get there to complete the sale. No pressure, and no attempt at up-sales. He got the vehicle battery replaced without fuss after discovering it was low. First time I ever completed a sale at the associate's desk - something I preferred to sitting in the traditional isolated room where you seem to sit and wait. Vehicle was consistent with description, there were no surprises regarding price, fees or paperwork. Pete provided what he promised in a timely manner and without drama. Will look here again if/when the need arises. Mike Semp
TonyDusko
3/3/2017 1:47:19 PM
Reason for My Visit:

Sales (Used)

Would I Recommend this Dealer:

Yes
Review
I would like to write about my positive experience at Tom Masano Ford. The dealership worked as a great team to help me get the car I wanted, and address any issues before, and even AFTER the sale. That is unique in the car business and I have bought over 50 cars. From the very beginning, Andrea Miller was a great sales person. We exchanged over 80 emails and she was willing to provide all the info and help I needed in a very timely manner. Andrea even got back to me on her days off. She went out of her way to help me get the car, and deal I wanted. Her manager Phil Franco was also great. He even approved some brake work after the sale because my brakes were making noise. I really appreciate that. Thank you again Phil. In addition, I had a great experience with the service department. Terry Shenk is a great mechanic. I highly recommend him. He is a great guy! Mr. Karr, the manager, made sure my car was taken care of ASAP. He is a super nice guy as well. Even Rodney, the service advisor is such a pleasure to deal with. So yes, It was a great experience and they have a nice team over at Masano Ford. Very good people. I will be a returning customer for certain!