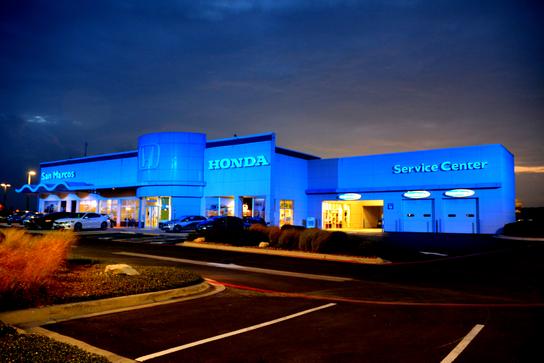 Honda of San Marcos
4300 IH-35 SOUTH, SAN MARCOS, TX 78666
512-738-8924
---
Chimi1647
5/12/2019 4:47:23 AM
Reason for My Visit:

Sales (New)

Would I Recommend this Dealer:

No
Review
I give one star only because the salesperson was knowledgeable about the car my wife and I were interested in buying, but the bottom line is that he (and management) ended up being unprofessional. We were kept there for hours while the managers were deciding if they were going to honor OUR price with a trade-in. We got hungry and told them we were going to go have lunch and they could let us know when they have made a decision. Well, never heard from them. My wife text the salesperson back and was told he was busy but would get back in a few minutes. Never text back. She text him back hours later and told him to just forget it. He text back saying to let him know if there is anything else he can do for us...Really? They did'nt even have the courtesy to tell us they could not meet our price. Wasted our whole day messing with them. Went to another dealership and got a better deal!
Al B
2/18/2019 11:32:26 AM
Reason for My Visit:

Sales (Used)

Would I Recommend this Dealer:

Yes
Review
We bought a preowned Jeep from Honda of San Marcos and found a few items that needed to be taken care of... The items were handled promptly and to our satisfaction. Thanks to our sales rep Larry Reeves for making the purchase process so easy. Also thanks to service manager Dusty Baker for handling the repair items so promptly. All the dealership staff we came in contact with were friendly and helpful. When we are ready to replace our CRV, we'll be back to Honda of San Marcos.
ShelbyM5
9/29/2018 9:49:28 PM
Reason for My Visit:

Sales (Used)

Would I Recommend this Dealer:

No
Review
My true rating is 0 STARS, BUT the fellow who worked with me was pretty knowledgeable and knows how to tour a car, so +1 star for that. Typical story. Went in looking for a used civic, and fell in love with a hatch(obviously falling in love was a huge mistake). They gave me the listing price which was actually 1000 more than the listing price that they had online. Told me the best they could do out the door, was a couple hundred more than the listing price they had given me. I left. I thought about going back, but after reviewing their price online I noticed that not only was their listing price at the dealership 1.5k over the fair market range, what they left me at was basically either right above the fair market range or at the very high end of it. Went down the road to another honda and walked out with an BRAND NEW accord for 400 more than what they wanted to screw me out of. Let me reiterate that... BRAND NEW. I left with a better car, in better condition, 7 miles, for $400 more. I can only imagine how they stay in business by fooling poor folks who decide to settle for their scam. Car shopping as it is is hard and stressful enough, don't waste your time here.