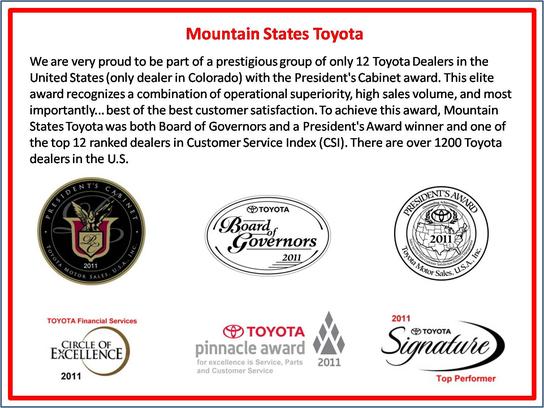 Mountain States Toyota
201 West 70th Ave, Denver, CO 80221
720-828-6231
---
×



"Trusted Transparent No D&H"
Canderson
7/13/2019 2:37:55 AM
Reason for My Visit:

Service

Would I Recommend this Dealer:

Yes
Review
Just purchased a 2015 Toyota. Nick F was awesome to work on making sure I got a great deal. And feel in love with the car I purchased
Leisa Austin
6/23/2019 9:22:30 PM
Reason for My Visit:

Sales (Used)

Would I Recommend this Dealer:

Yes

Who Helped Me:

Ray Saccomano
Review
Just bought a 2018 Rav4 today. Ray was our salesman. He was great. NO pressure. Patient with us. Let us test drive as many as we wanted. Worked with us to get us a good trade in on our Tacoma. Kind and patient to work with. Dealing with the financing was easy too. Thank you Mountain States Toyota..
siegelrich
5/25/2019 1:32:52 PM
Reason for My Visit:

Sales (Used)

Would I Recommend this Dealer:

No

Who Helped Me:

Nick Kramer
Review
I have no problem stating that Mountain States Toyota is the Chernobyl of stealerships. My daughter drove 25 miles from University of Colorado to look at a CPO Corollla, We had a specific model in mind. When she got there, the car did NOT have 25,000 miles as advertised on their website, instead it was closer to 50,000 miles. An honest --though I'm pretty sure the people at Mountain States are unclear on the concept of honesty -- mistake, we were told. The next day, we found a similar Corolla that met all our criteria, low miles and the right price. I made the arrangements with one of their stealers (I don't need to give you his name as I suspect they're all crooked) who was going to send me the paperwork to finalize the deal. Guess what? The very next day, I received a phone call to the effect of, we looked over the vehicle again and found out the mileage stated on the website, about 30,000, was actually over 50,000. Fool me once, shame on you. Fool me twice, shame on me. Fool me three times...well there's not going to be a third time. Instead there's going to be a report made to the Denver Better Business Bureau. And I'll contact some friends I have in the local media, perhaps to initiate an undercover investigation of this bullcockery. Read the Yelp reviews. Mine is hardly the first crappy experience. Make sure the next one isn't yours. This place is radioactive.