Top 8 Cars in Film: You Ought to be in the Movies With These Rides
Posted 4/28/2017 3:49 PM
Overview
Film and car buffs alike have been flocking to theaters to see the eighth installment in the Fast and Furious franchise, the Fate of the Furious, in no small part due to the introduction of the film's hero car, the 2018 Dodge Demon, an 840-horsepower street legal dragster. The Demon was unveiled with much fanfare at this year's New York International Auto Show, with Vin Diesel, who plays Dominic Toretto in the series, making an appearance. Depending upon your checking account balance, you might have a chance at buying one of the 3,000 Demons promised for the U.S. market with an asking price that's likely to be north of $80,000. But if $80K is out of your reach -- or beneath your budget -- here are eight other cars with movie connections that you can buy, some with fairly attractive current prices.

This 707-horsepower Charger SRT Hellcat may not be as powerful or fast as the Demon, but the long-running Charger still offers plenty of bang for the buck. Various versions have made appearances in the current and previous Fast films as well as a host of other movies going all the way back to the seminal chase scene in Steve McQueen's Bullitt. Back then, the Charger was a sizable 2-door coupe; now it's a more useful 4-door that, in Hellcat form, retails for $68,791. Kelley Blue Book's Fair Purchase Price (FPP) is $65,124, and there are reports of further dealer incentives on the car so it might be bargain-priced at your local Dodge store.

Make ours white in honor of the original 1970 Challenger that starred in the 1971 cult film Vanishing Point, where a loner known only as Kowalski attempts a banzai run from Denver to San Francisco. (Spoiler alert: it becomes a difficult journey for him.) This time around, opt for the Challenger GT that in place of a Hemi V8 has a 305-horsepower 3.6-liter V6 and new for 2017 all-wheel drive. Maybe if Kowalski had AWD, he would have had more success. The GT carries an MSRP of $34,490 with an FPP of $32,759.

Ford actually offered a Bullitt sub-model of its previous-generation Mustang, a Hunter green-colored GT that recalled Steve McQueen's ride in one of the most famous movie chase scenes ever. While there have been rumors of the model being brought back, so far it's been all talk. With no Bullitt to buy, you might instead opt for a 2017 Ford Mustang GT. That model brings you a 435-horsepower 5.0-liter V8. Buy one in black and you can pretend you are Ryan Gosling in 2011's Driver. The Mustang sells for $34,095, but KBB's FPP is lower at $31,769.

While the Camaro has been around nearly as long as the Mustang, its film credits aren't quite as long as its cross-town pony car rival's. Still, if you buy a yellow one with black stripes, kids will instantly recognize it as Bumblebee from the Transformer films. The Camaro SS boasts a healthy 455 horsepower from its beefy 6.2-liter V8. Currently Chevy is offering rebates of about $1,000 as well as financing from 3.9 percent on an MSRP of $43,900 for the SS. Our FPP is estimated at $41,472.

You may not have the money of Tony Stark, filmdom's Iron Man, but you have to have some pretty serious coin if you want to ride around town like him in a 2017 Audi R8. This sleek mid-engine V10-powered sports car retails at $165,450 and by all appearances, there's not much discounting going on for this 525-horsepower 2-seater. Audi is offering 1.0-percent financing as consolation. If you search hard, you might be able to still find a 2015 model, which in addition to having a V8 variant, was also offered as a Spyder.

More practical and not as pricey as the R8, Audi's A8 is the consummate executive sedan and has been portrayed as such even as it participated in riveting chase scenes with Robert De Niro at the wheel in 1998's Ronin. Jason Statham took a similar turn in the second and third installments of Transporter. Whether it's done up in gray or black, the A8 has a sinister appearance that's backed by its 4.0-liter twin-turbo V8 that cranks out 450 horsepower. And in the S8 that becomes 605 horsepower delivered to all four wheels through Audi's Quattro system. Audi A8s start at $92,450 with an FPP of $84,702.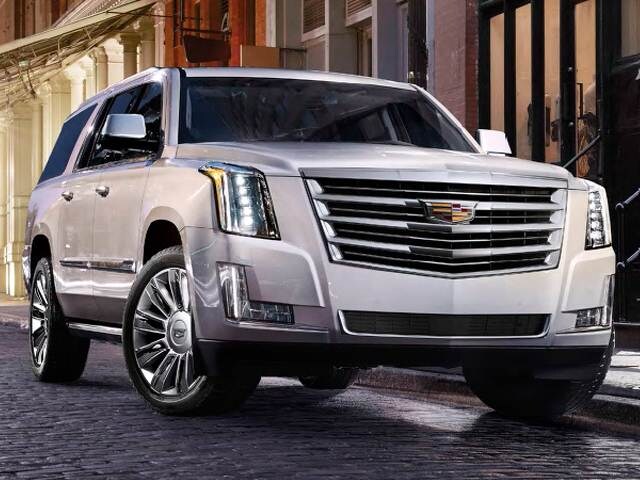 Whether you're transporting sensitive cargo like Statham or a bunch of knucklehead friends like the goofballs in Entourage, if you have a posse the ride of choice is definitely the 2017 Cadillac Escalade ESV Platinum. The longer-wheelbase version has plenty of cargo space behind the third row to carry porkpie hats, bling and whatever accoutrements are required to impress in West Hollywood. The Platinum trim on the Escalade brings a high level of equipment to go along with the meticulously crafted leather and wood interior. Starting MSRP for this model is $98,790, while KBB estimates a Fair Purchase Price of $93,257.

Another cult film that found new life was the 1969 classic The Italian Job, which was remade in 2003 with a little help from the reborn Mini Cooper. Some would say the second film is like the car itself; much larger than and not as tidy as the original. Still, there's much fun to be had behind the wheel of the latest iteration of the Mini Cooper, especially if you opt for the John Cooper Works edition that boasts 228 horsepower from its 2.0-liter turbocharged 4-cylinder engine. The 2-door hardtop version starts at $31,750 and you can expect a Fair Purchase Price of $29,644.

Find a Top 10 List - New Car and Used Car