This Week in Car Buying: 2016 incentives land; Buick lowers prices; Midsize pickups a hit; Hybrids take an HOV sticker hit
by
Matt DeLorenzo
|
May 29, 2015 7:28 AM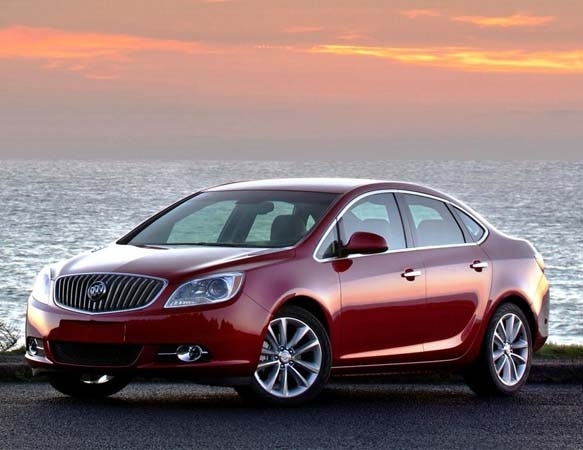 Time was that the new model year would officially commence on October 1. However, with manufacturers looking to give their new models a longer life and less depreciation in that critical first year, any car introduced after the first of the year is given the following year as its model designation. As a result, there are already a good number of 2016 models on the road now. And with those new models come spiffs. According to AIS Rebates, the first of the 2016 models are starting to show up in incentive programs. At BMW all 6-Series models as well as the X3, X4 and Z4 are eligible for interest rate programs ranging from 0.9-5.8 percent until June 30. Mercedes-Benz is offering 1.9-5.0 percent financing on 2016 E-Class models including the E250 BlueTEC diesel, E350, E400 and E550. This program expires June 1. Audi is offering 1.5-9.9 percent financing on its 2016 S6, S7, S8 and A7 models through June 30.
At Ford, 2016 models receiving incentives include the Fusion Energi ($750 or 0-7.9-percent financing), all Fusions including hybrids ($500 or 0-7.9-percent financing) and Explorer ($500 or 1.9-9.9 percent financing). Heavy duty Ford pickups (F-250 through F-450) have $1,000 on them plus 1.9 to 9.9 percent financing. All these deals are good until July 6. Lincoln has 0.9-8.9-percent financing through June 1 on 2016 MKZ, MKC and MKX models.
Buick drops base prices
By introducing two new base 1SV models, Buick has lowered the entry level pricing of its Verano compact and Regal mid-size sedans. The new Verano 1SV lists at $21,990, $2,315 lower than the previous base model. While the only significant change is the deletion of satellite radio as standard equipment, much of the price reduction is attributed to a reduction of the dealer margin on the unit. As a result of this narrower margin, expect to see only a limited number of them on dealers' lots, but also you'll probably see the 1SV model advertised as a price leader.
On the larger Regal, there are significant content changes to justify the new 1SV model's price of $27,990, which is about $2,000 less than the previous base model. The biggest change is the use of a normally aspirated 2.4-liter four-cylinder engine that replaces the 259-horsepower turbocharged 2.0-liter four that formerly was the Regal's standard powerplant. The 2.4-liter engine was previously used as the base engine on a fleet-only version of the Regal. Despite the change in powertrains, the trim level remains the same with standard leather seating, remote keyless entry and a backup camera.
Also: Kelley Blue Book Best Buy Awards of 2015
Chevy Colorado/GMC Canyon set torrid pace
Reporting that 43 percent of the buyers of the new 2015 Chevrolet Colorado and GMC Canyon are new to the brands, GM said that its hot selling mid-size truck remains in short supply with some reports indicating as low as a 12-day supply of trucks on the ground. GM is ramping up production at its Wentzville, Missouri, plant to increase output to meet the demand.
According to The Monthly Autocast, editor Clifford Swenson predicts that GM will produce 140,000 of the pickups this year, up from earlier estimates of 119,000.
Trade journal Automotive News said that GM may be hiring as many as 1,000 temporary flex works in addition to the recently added third shift to lift output. However, the company isn't likely to add a second production facility until it has a better handle on just how big the market is for the new trucks.
Hybrid HOV stickers on life support
One of the perks of buying a hybrid vehicle in California was getting a sticker that allowed single occupants to use the carpool (High Occupancy Vehicle-HOV) lanes. Now, the state announced that the second generation of these stickers, green in color, is slated to expire Jan. 1, 2019. The original number had been 40,000 and was increased in increments of 15,000, the most recent installment last Jan. 1. The first generation stickers, which were yellow, have expired and vehicles with them are no longer eligible for single occupant use of the carpool lanes.
Hybrids have seen their sales slide, April sales were down 12 percent over 2014 according to KBB data, even though the car pool stickers have long been considered a selling point and boon to the vehicle's resale value. Once the stickers expire, however, it's likely that it will have an impact not only on new hybrid sales, but also the resale of used units.
Meanwhile, the California Air Resources Board says that there will be no limit on the white car pool lane stickers assigned to battery electrics and vehicles powered by compressed natural gas. However, those stickers, like the green ones, expire Jan. 1, 2019. If that program is not renewed, it is likely to have a similar effect on the sales and resale value of these alternative fueled vehicles.