Honda drops Fit EV lease price to $259/mo, adds unlimited mileage
by
Bob Nagy
|
May 30, 2013 9:33 AM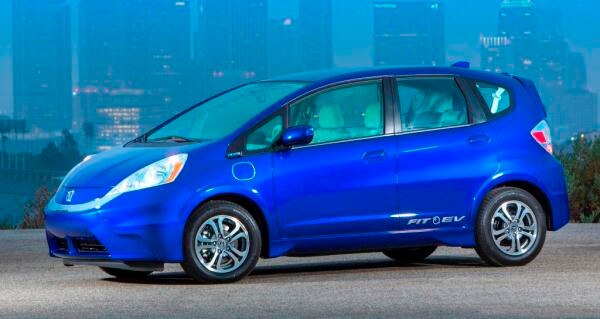 Responding to competitive pressure in what's become an increasingly hard-fought if modestly scaled market segment, Honda is reducing the cost to lease a 2014 Fit EV from $389 to $259 per month starting June 1. In addition to cutting the payment amount by a third while still requiring no money down at signing on a 36-month contract, Honda also will toss in unlimited mileage on the vehicle and cover the cost of all routine maintenance as well as collision insurance. Monthly payments for all existing Fit EV lease holders also will be reduced to $259 starting June 1, and the annual mileage restrictions on their vehicles also will be eliminated.
Honda's sweetened Fit EV lease deal also includes a 240V home-charging station from Leviton, the automaker's preferred equipment provider. While customers will be responsible for the cost of installation and a 32 amp line, they'll get to retain the system at the end of the contract period. They'll also be invited to take advantage of Honda's partnership with SolarCity to install solar power with no upfront cost.
Also: 10 Best Green cars of 2013
With its 118 MPGe combined EPA rating, the 2014 Honda Fit EV is the most efficient 5-passenger EV on the market. While the Chevrolet Spark EV, Fiat 500e and Nissan LEAF can still lay claim to less expensive $199/month leasing deals, only the Fit EV comes with no down payment, unlimited mileage, collision coverage and a free home charging station. According to Honda, when those elements are factored into the equation, only the Fiat 500e costs less on a monthly basis - and only by $4.
Also: Your 12 midsize sedan choices
Beyond a more enticing lease deal, Honda is ramping up its overall marketing efforts for the Fit EV. In addition to streamlining the initial online application process, Honda will expand its network of qualified Fit EV dealers in California, Connecticut, Maryland, Massachusetts, New Jersey, New York, Oregon and Rhode Island from 36 to over 200 by the end of June.
You Should Also Know...
The Fit EV remains one of our favorite all-electric cars

The 2013 Ford C-MAX Energi is the EPA's most fuel-efficient plug-in hybrid
An all-electric Mercedes-Benz B-Class will arrive here in early 2014