Chevrolet Unveils MyLink App Integration - CES 2014
by
Zach Vlasuk
|
January 9, 2014 8:50 AM
Having undergone a substantial overhaul just one year ago, Chevrolet's MyLink infotainment system will see yet another major improvement when it debuts later this year in select 2015 models. Designed to work in conjunction with GM's embedded 4G LTE telematics (available summer 2014), Chevrolet's new AppShop provides access to a number of vehicle-relevant mobile applications from behind the wheel. At launch, AppShop will include such free downloadable apps as iHeartRadio, Priceline.com, The Weather Channel, NPR, Slacker Radio, TuneIn Radio, Cityseeker, Eventseeker, Glypmse, and Kaliki.
Another new addition to MyLink's feature set is a vehicle health app that provides comprehensive diagnostic reports and maintenance reminders. The app also allows users to schedule service appointments with participating Chevy dealerships.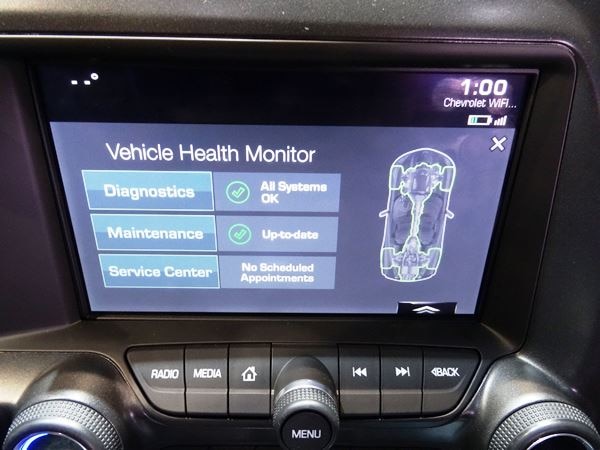 * iHeartRadio: Offers instant access to more than 1,500 of the nation's most popular live radio stations from anywhere in the U.S., plus custom stations inspired by a specific artist or song.
* Priceline.com: Allows for search, comparison, and booking of a hotel room.
* The Weather Channel: Provides visual and audible weather information, including current conditions, hourly and five-day forecasts.
* NPR: News, culture and humor from NPR and 900-plus public radio stations nationwide, including live broadcasts and more than 80 all-music streams. Uses vehicle location to automatically localize listening to the nearest NPR member station.
* Slacker Radio: Handcrafted internet radio service with more than 13 million songs, plus news, sports, comedy and weather. Playlists can be synchronized with a smartphone, tablet or web browser.
* TuneIn Radio: Expands in-car radio listening to more than 100,000 radio stations and more than 2 million podcasts streaming from every continent, including sports, news, talk and music.
* Cityseeker: A car concierge service that provides relevant and personalized information about attractions, museums, restaurants, nightlife and shopping based on a vehicle's location.
* Eventseeker: Seek, share and live with personalized information about events, concerts, sporting events, festivals, performing arts, family-friendly activities and more. Never miss an event again.
* Glympse: The pioneer of temporary, person-to-person location sharing. Allows a driver to share real-time movement with anyone, including speed and estimated arrival time.
* Kaliki: A spoken-word news and entertainment app that delivers up-to-the-minute headlines, traffic, sports, weather and marquee episodic content from North America's leading publishers, broadcasters and producers.