Chevrolet Colorado Concept FCEV to get real-world Army shakedown
by
Bob Nagy
|
November 20, 2015 8:33 AM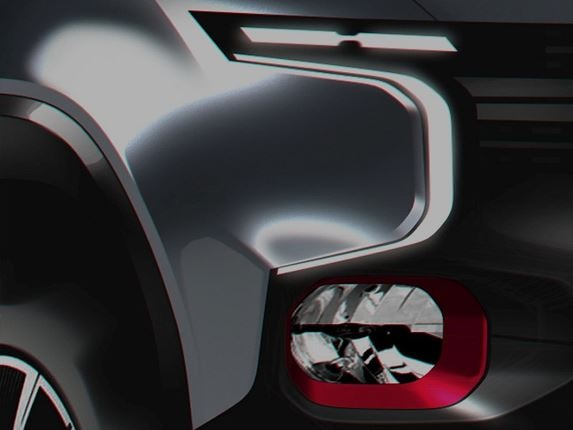 General Motors and the U.S. Army Tank Automotive Research, Development & Engineering Center (TARDEC) have teamed up to build a Chevy Colorado that will run on a hydrogen fuel cell propulsion system. The experimental mid-size pickup will have unique styling as evidenced in this single teaser image and will be subjected to a daily regimen of "extreme military use for 12 months."
Also: Class of 2016 -- New Cars Ready to Roll
Both partners are enthusiastic about the potential of this prototype which will be able to leverage the outstanding low-end torque capability of FCEVs that can enhance their performance in off-road environments. The technology also offers clean, quiet operation and the ability to export electric power if necessary.
"Hydrogen fuel cell technology is important to GM's advanced propulsion portfolio, and this enables us to put our technology to the test in a vehicle that will face punishing military duty cycles," said Charlie Freese, executive director of GM's Global Fuel Cell Engineering activities.
Also: Kelley Blue Book Best Buy Awards of 2016
"The potential capabilities hydrogen fuel cell vehicles can bring to the Warfighter are extraordinary, and our engineers and scientists are excited about the opportunity to exercise the limits of this demonstrator," said TARDEC Director Paul Rogers. "FCEVs are very quiet vehicles, which scouts, special operators and other specialties place a premium," he added. "What's more, fuel cells generate water as a by-product, something extremely valuable in austere environments."
GM and TARDEC promise more details on this unique Colorado FCEV as well as specifics on when its testing cycle begins in the months ahead.