ZF offers new details on new nine-speed automatic transmission
by
KBB.com Editors
|
June 8, 2011 1:30 PM
Following up on its initial reveal at this year's Detroit Auto Show, ZF Friedrichshafen AG used the recent International VDI Conference "Transmissions in Vehicles 2011" to provide a deeper tech dive inside of its new 9HP nine-speed automatic transmission.
Designed for use in front-drive/all-wheel-drive vehicles with transversely mounted engines and fully capable of accommodating conventional or hybrid powertrains and/or start-stop systems, the new 9HP comes in two strengths. The basic unit has a 207 lb-ft torque capacity while the heavy duty upgrade can handle up to 354 lb-ft.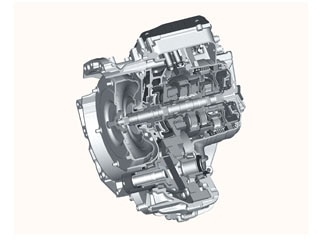 Complementing its extremely compact and space-efficient configuration, the new 9HP transmission embodies the very latest in ZF-developed computerized controls that will allow it to deliver up to a 16 percent increase in fuel economy compared to a modern six-speed auto alternative. A good deal of that gain comes from its extremely wide (9.84:1) ratio spread that divided into nine discrete ratios. In addition to allowing the engine to remain in its most efficient operating range nearly all of the time, the top cog permits 62 mph cruise speed at just 1,900 rep instead of the 2,600 revs the engine would normally be turning when backed by a six-speed.
Key internal elements in the ZF 9HP include four individual gear sets that are nested rather than aligned on the transmission's longitudinal axis as well as six constant-mesh shifting elements and a high-efficiency torque converter with a trick multi-level torsion damping shock-absorber system that permits exceptionally smooth but quick gear changes and similarly rapid engagement of the lockup clutch. ZF also opted for a separate rather than integrated electronic control unit (EGS), a move it says permits the use of a far smaller hydraulic control unit as well as allows for a greater degree of adaptability by various manufacturers and the easy future implementation of even more advanced software that can enhance the performance of the EGS by up to 30 percent and still keep gear changes "below the level of perception."
To add even more flexibility to the 9HP, ZF has created a supplemental transfer case for use in all-wheel-drive installations with an integral "AWD Disconnect" decoupler system that it says can save up to an additional five percent in fuel use compared to a conventional full-time AWD setup. In the case of a gas/electric hybrid application, the 9HP is designed to have its torque converter replaced with an electric motor.
Still ZF had yet to say which automaker will be the first to fit the 9HP to one of its vehicles, it has confirmed that the transmission would be manufactured here in the U.S. starting next year at a new facility currently being built in Greenville, South Carolina