VW retuning to World Rally Championship in 2013
by
KBB.com Editors
|
May 10, 2011 1:02 PM
Volkswagen has confirmed that it will be contesting the FIA World Rally Championship with a specially prepared Polo R model starting in 2013. While providing few technical details about the car, we do know that it will pack a 1.6-liter turbocharged/direct-injected four-cylinder gasoline engine that makes around 300 horsepower and send that motive force to all four wheels via a sequential manual transmission. A prototype version of the Volkswagen Polo R WRC car is slated to be up and running by the end of the year, with 2012 being designated as a developmental season. It will be followed by a full factory effort in 2013-2015 aimed at winning the WRC championship.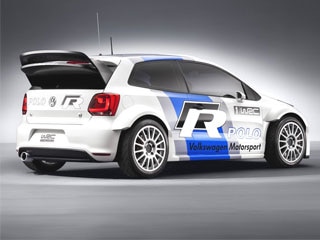 Like Mini, which made its competitive return to WRC competition over the weekend at the Rally d'Italia in Sardinia, Volkswagen was lured back into this arena by a new and more cost-effective set of technical regulations that have potential to pay real-world sales dividends, rules that Dr. Ulrich Hackenberg, VW's board member in charge of development, finds "an ideal fit for Volkswagen's philosophy with respect to the development of production vehicles. Downsizing, high efficiency and reliability are top priorities for our customers. The timing of the WRC debut is optimal for Volkswagen. The big task of engineering a vehicle that is competitive and capable of winning at a large number of challenges holds great appeal to us."
Volkswagen's involvement in rally competition began back in the early 1970's with the Gen I Golf GTI, which collected several national titles and set the stage for bigger things. A Gen II Golf GTI 16V gave the German marque its one and only WRC title back in 1986, but during the '80s and '90s, VW's Audi brand and its mighty all-wheel-drive Quattro rally racers won numerous individual events and multiple driver and manufacturer crowns as well as setting new benchmarks at legendary venues like Pikes Peak. Most recently, Volkswagen has dominated the three-week-long Dakar Rally in South America. However after three consecutive wins in the event with its cadre of VW Race Touareg 3 models, VW is redirecting that formidable budget to underwrite this new WRC program. While the factory won't be back for the 2012 Dakar contest, it does plan to allow several of those desert-spec Race Touareg 3s to be campaigned by select privateer teams with some house assistance.