Volvo V60 Plug-in Hybrid -- Geneva Auto Show
by
KBB.com Editors
|
March 1, 2011 7:08 AM
Making its first public appearance in Geneva, the Volvo V60 Plug-in Hybrid is a "virtually production-ready car" that offers outstanding CO2 emissions of less than 50g/km and returns an equivalent of 123.8 mpg. Created in consort with its partner, Swedish energy supplier Vattenfall, Volvo says it will introduce the vehicle to the European market in 2012.
The Volvo V60 Plug-in Hybrid matches a biofuel-capable 2.4-liter inline five-cylinder turbodiesel engine that makes 215-horsepower and 325 lb-ft of torque to drive the front wheels with Volvo's ERAD (Electric Rear Axle Drive) setup that features a 70-horse electric motor/generator that develops an additional 147 lb-ft of twist on demand. A12kWh lithium-ion battery pack located directly over the ERAD in an extensively crash-tested casing is used to energize the motor. When the car does operate in AWD mode, front/rear torque distribution gets managed by a dedicated electronic controller rather than conventional mechanical means.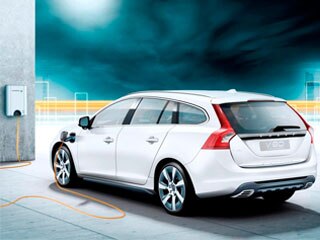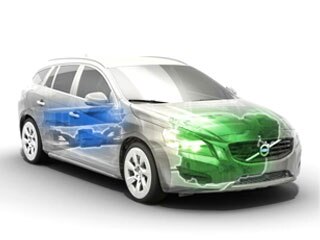 Fitted with a six-speed automatic transmission, this ultra-efficient V60 variant also can accelerate from 0-62 mph in 6.9 seconds and travel up to 746 miles before it requires refueling -- 32 of those miles on EV power alone. Three buttons on the dash allow the driver to select between pure electric, efficient hybrid and full-on performance modes, depending on conditions.
Recharging the Volvo V60 Plug-in Hybrid can be done at home in about 4.5 hours on a standard 230V/10A European electrical line or three hours on a 230V/16A circuit.
Like virtually all of its greener brethren, the Volvo V60 Plug-in Hybrid comes with an assortment of special touches beyond its lightweight alloy wheels and bespoke Pirelli low-rolling resistance tires. These include special instrumentation and displays, mobile smartphone apps that permit preheating/precooling the passenger compartment, and recharging reminders and status checks.
Stefan Jacoby, President and CEO of Volvo Cars admits that "the technology is still undergoing development and testing, however, the car already points very clearly to what our customers can expect when the plug-in hybrid enters showrooms next year. This second-generation hybrid is the perfect choice for the uncompromising buyer who wants a superbly carbon dioxide-lean car packed with driving pleasure."
"In order to get true car enthusiasts to think green, you have to offer them the opportunity to drive with low carbon dioxide emissions without taking away the adrenaline rush that promotes genuine driving pleasure. The V60 Plug-in Hybrid has all the traditional properties of a genuine sports wagon. What we've done is to spice it up with spearhead technology." Although no versions of the V60 are currently planned for Volvo's U.S. lineup, some elements of this new strain of diesel hybrid plug-in technology could transfer over at some point in the future.